Apex Armorer Block – First Appearance
This weekend at the NRA Annual Meeting in Pittsburgh, we're showing off the new Apex M&P Armorer Block. Randy was drilling out the hole in the block of Nylon he's been using for a bench block when the idea hit me to make custom Armorer Blocks specific to the M&P. With the use of a friend's Optical Comparator and some time in AutoCad, I came up with a relatively simple block that would allow us to drop the M&P frame onto it and punch the pins through withoug much trouble.
These photos are of the prototype aluminum blocks that we're bringing to the NRA Show to show off and use. The production part will be made from anodized aluminum with delrin bosses to support the frame and keep things in place.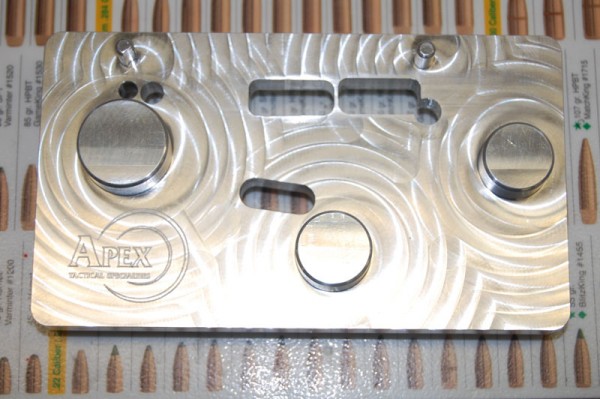 There's still some work to be done before I approve the final design. We'll announce the release of the blocks as well as their final price as we have that information available within the next few months.
Scott