Apex Now Shipping New Action Enhancement Trigger For Glock Pistols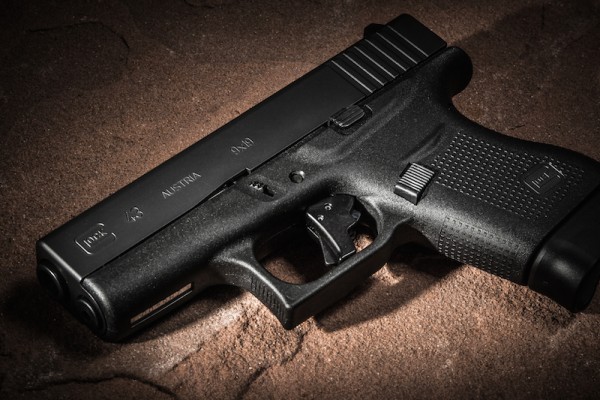 LOS OSOS, Calif. – Apex Tactical Specialties announces it is now shipping the all new Apex Action Enhancement Trigger for Glock pistols. The new trigger reduces pre-travel and overall travel, shortens the reset, provides a smooth uptake and reset and delivers a crisp trigger break, making it ideal for duty carry and personal defense applications.
The new Glock Action Enhancement Trigger replaces the factory polymer trigger with an anodized aluminum trigger body featuring a center mounted pivoting safety, improving the trigger performance without decreasing the trigger pull weight. The Glock Action Enhancement Trigger equipped with a Glock Gen 3 Factory Trigger Bar fits the following Glock model pistols: G17, G17L, G19, G22, G23, G24, G26, G27, G31, G32, G33, G34, G35, G37, G38 and G39.
Also available as a stand alone replacement trigger for use with a customer supplied factory trigger bar, the Glock Action Enhancement Trigger Body works in nearly all current Glock model pistols, including the model G43 (updated info), but due to its narrower frame it is not designed to function in the model G42.
The Apex Glock Action Enhancement Trigger with a Glock Gen 3 Factory Trigger Bar, part #102-110, sells for $99.95, and the Glock Action Enhancement Trigger Body, part #102-112, sells for $79.95. Both are now shipping and available for purchase from ApexTactical.com, Brownells.com and MidwayUSA.com. Dealers can order the new trigger through Chattanooga Shooting Supplies or by contacting Apex at dealer@apextactical.com or calling (805) 528-5250.
Features and Specifications:
– Black anodized aluminum trigger
– Direct drop-in replacement of factory polymer trigger
– Smooths uptake and reset
– Reduces pre-travel, and overall travel
– Shortens reset length
– Center mounted pivoting safety maintains factory safety values
– Apex Part #: 102-110 (Action Enhancement Trigger with Gen 3 Factory Trigger Bar)
– Apex Part #: 102-112 (Action Enhancement Trigger)
– MSRP: $99.95 for the Trigger with Gen 3 Trigger Bar
– MSRP: $79.95 for the Action Enhancement Trigger
For more information on parts and services from Apex Tactical Specialties, visit www.ApexTactical.com, like Apex Tactical on Facebook or follow @ApexTactical on Twitter and Instagram. Instructional videos on the installation of Apex parts are available on Apex's YouTube channel.