Talon Tactical – Custom Kydex and More
When we started producing our Ultimate Striker Block for the S&W M&P, we were introduced to a simple tool made by Mike Benedict of Talon Tactical that simplified the job of reinstalling the rear sight from a 3 handed job to being "So easy, a caveman could do it".  The Talon Tactical Rear Sight installation tool has since become standard equipment with the Apex USB, for the simple reason that it's a high quality part that does what it's designed to do.
With the IRC behind us, I decided I wanted to hit USPSA Production Division hard, so I started looking into Talon's holsters and placed an order for some appropriate to shoot USPSA and IDPA with.  The holsters for our M&Ps arrived yesterday and I have to say, they're much like Mike's Rear Sight Tool; they'r simple, effective and do exactly what we need them to do….and they're mighty fine lookin too.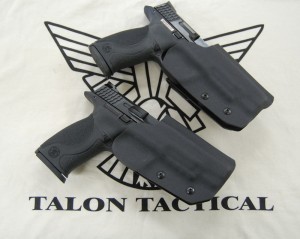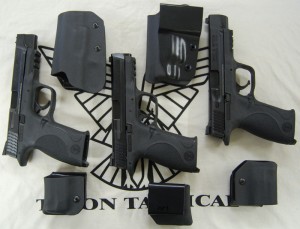 Team Apex will be shooting our Comp AEK M&Ps at the Tri-Tip match this weekend at the Hogue Action Pistol Range here in San Luis Obispo.  We'll also be wearing Talon Tactical T-shirts
Check out Mike's products at http://www.talontactical.com