Mandatory Safety Recall of Apex Trigger Kits for Slim Frame Glocks Assembled with Apex Manufactured Trigger Bar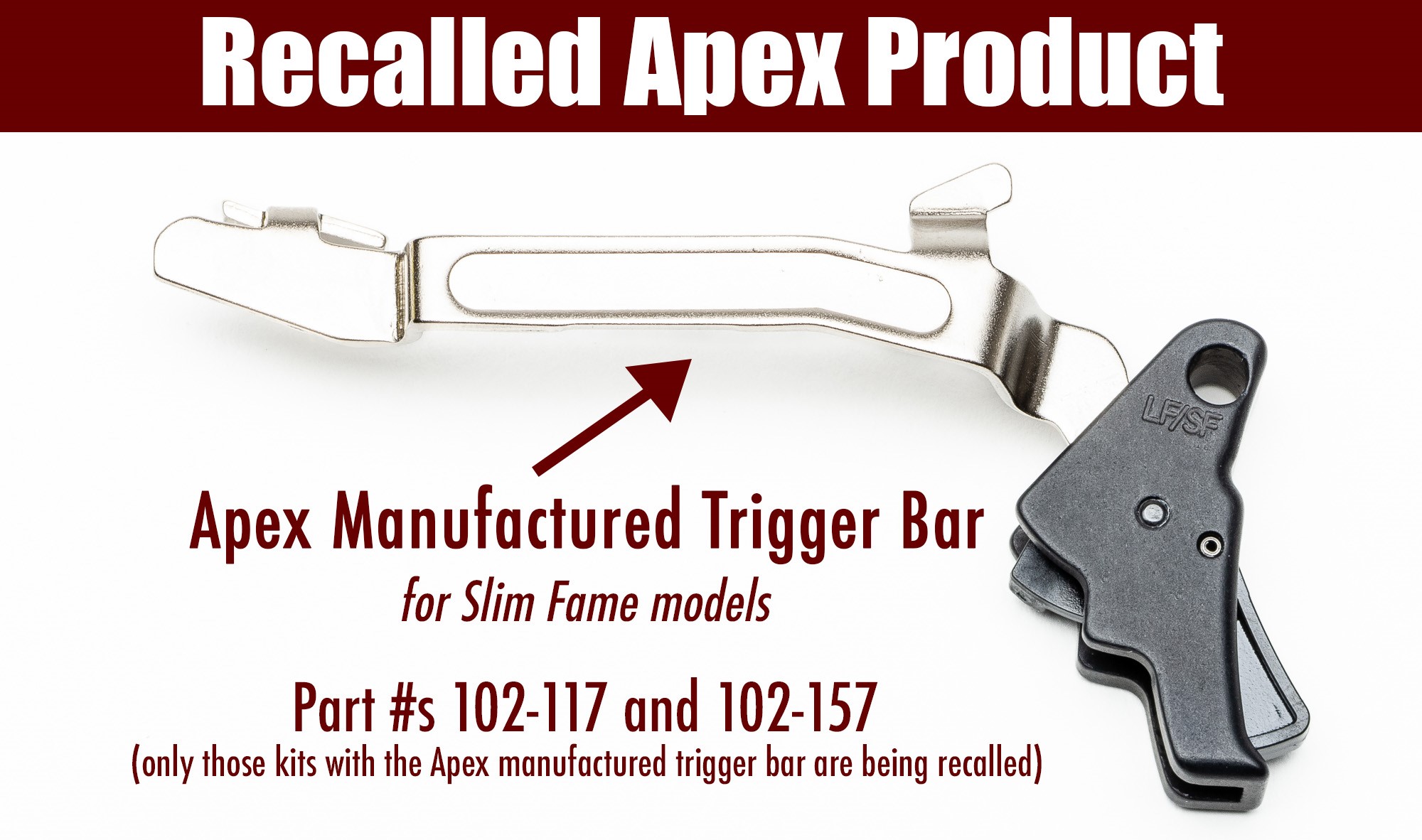 Apex Tactical Specialties announces a mandatory recall of a limited number of Apex Action Enhancement Kits for the Slim Frame Glock pistols sold between between October 2021 through March 2022. These specific kits are assembled with an Apex in-house manufactured trigger bar – NOT a Glock factory trigger bar – and were sold through Apex's dealer and distributor network.

Apex has identified an issue with the Apex trigger bar where under certain circumstances the dimensions of the trigger bar are out of spec resulting in a failure to reset the trigger.

Apex is instructing customers to discontinue the use of these trigger kits, part numbers 102-117 (Black) and 102-157 (Red), and contact Apex Tactical Specialties to return the affected kits for replacement.

Please note that Apex kits assembled with a Glock made factory trigger bar and sold prior the identified timeframe are NOT at issue and not subject to the recall. Apex's 'No Bar' kits, part numbers 102-114 and 102-154, are also NOT at issue.

Only those kits featuring the Apex in-house manufactured trigger bars are being recalled. (see identifying photos below)

April 2022 Apex SAFETY RECALL

Product Name:
Apex Action Enhancement Kits for the Slim Frame Glock pistols

Product Numbers:
102-117, 102-157

Color(s):
Black, Red

All Apex kits (102-117 and 102-157) sold through distribution between October 2021 and March 2022, are affected by this recall. Therefore, Apex customers that purchased either kit are asked to please visit the Apex Slim Frame Kit Safety Recall webpage for detailed instructions on returning the trigger kit for replacement.

Note: Please do not ship any affected product to Apex Tactical Specialties until an RMA and shipping label has been generated by Apex and sent to you. In the interim, Apex asks that customers remove the Apex kit and return their pistol to the factory configuration.