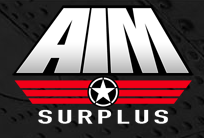 LOS OSOS, Calif. – Apex Tactical Specialties announced that AIM Surplus now stocks a number of Apex's industry-leading aftermarket drop-in performance parts for firearms such as the M&P, M&P Shield, Sig Sauer P320, Walther PPQ and Glock pistols.
"Apex is very pleased to welcome AIM Surplus to our growing list of dealers. As the popularity of and demand for Apex parts increases, more and more customers are looking to order from their favorite retailer, and with AIM Surplus now on board we'll be welcoming in a whole new group of Apex fans as customers," said Randy Lee, president of Apex Tactical Specialties.
Based in Monroe, Ohio, AIM Surplus is major online retailer offering a wide selection of firearms, ammunition and accessories.
"We are extremely excited to team up with Apex Tactical to carry their full line. We have been using Apex products in our own guns for years now, and we are excited to bring these upgrades to our customers," said Bryan Flannagan of AIM Surplus.
Among the many popular Apex parts now available from AIM Surplus are the:
– Apex Grade Semi Drop-In Barrel for the 9mm M&P
– Apex Action Enhancement Trigger for the Sig Sauer P320
– Apex Action Enhancement Trigger w/ Gen 3 Trigger Bar for Glocks
– Apex Duty/Carry Action Enhancement Trigger & Kit for the M&P Shield
– Apex Duty/Carry Spring Kit for J-Frame Revolvers
– Apex Flat-Faced Forward Set Trigger for the Walther PPQ
For more information on AIM Surplus, or to place an order, visit www.aimsurplus.com or call (888) 748-5252.
For more information on parts and services from Apex Tactical Specialties, visit www.ApexTactical.com, like Apex Tactical on Facebook or follow @ApexTactical on Instagram and Twitter. Instructional videos on the installation of Apex parts are available on Apex's YouTube channel.