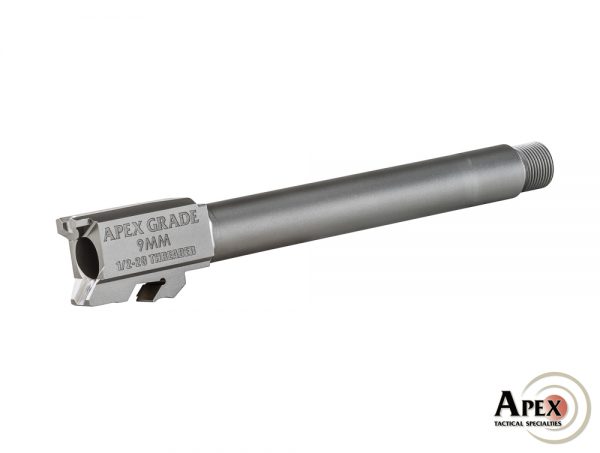 PEORIA, Ariz. – Apex Tactical Specialties is proud to announce the expansion of its line of patent pending Apex Grade Barrels for the 9mm Smith & Wesson M&P with the immediate availability of Apex Grade Threaded Barrels in Semi Drop-In and Gunsmith Fit configurations.
Developed over the past four years by Apex founder and CEO Randy Lee, the unique barrel geometry of the Apex Grade Barrels consistently deliver five-shot groups well under two inches at 25 yards, whether it is with 115gr., 124gr. or 147gr. factory ammunition.
In controlled testing using a Ransom Rest that eliminates the human element and focuses only on the mechanical operation of the barrel in the dynamic environment of the functioning pistol, Apex Grade Barrels routinely delivered sub-one inch groups with several under one half inch.
When tested at the extreme of 50 yards, the 5.00" Apex Grade Barrel, shooting 147gr. factory ammunition, delivered a 1.86" five-shot group (measured center to center), putting it on a par with high-end custom built 1911 pistols. By comparison, the same test pistol shot with the Smith & Wesson factory barrel delivered a 5.209" group, nearly three times larger than that of the Apex Grade Barrel.
The new stainless steel Apex Grade Threaded Barrels feature a 1:10" twist rate and are available for 9mm M&P pistols with 4.25" and 5.00" length standard barrels. The thread pattern is the commonly used 1/2–28. The Apex Grade Semi Drop-In Threaded Barrel can be easily fitted by the end user and is designed to significantly increase accuracy performance, making the M&P capable of shooting a one and a half inch or better grouping at 25 yards.
The Apex Grade Gunsmith Fit Threaded Barrel is designed for installation by a trained gunsmith who can perform an exact barrel fitting to a specific pistol. This precision approach to fitting makes the M&P capable of shooting a one inch or better grouping at 25 yards.
Final accuracy results after installation may vary based on the individual shooter's ability, ammunition selection and variations in factory firearm tolerances as well as the muzzle device installed.
The new Apex Grade Threaded Barrels for the 9mm Smith & Wesson M&P retail for $259.95 and are available now at ApexTactical.com.
Dealers and distributors can order the new barrels by contacting Apex at dealer@apextactical.com or calling (623) 322-0200.
Features and Specifications:
– For 9mm M&P Pistols Only
– 5.00" or 4.25" Length
– Stainless Steel
– 1:10" Twist Rate
– 1/2–28 Thread Pattern (thread protector included)
– Apex Part #: 105-058 (5.00" Gunsmith Fit)
– Apex Part #: 105-059 (4.25" Gunsmith Fit)
– Apex Part #: 105-060 (5.00" Semi Drop-In)
– Apex Part #: 105-061 (4.25" Semi Drop-In)
– MSRP: $259.95
For more information on parts and services from Apex Tactical Specialties, visit www.ApexTactical.com, like Apex Tactical on Facebook or follow @ApexTactical on Instagram and Twitter. Instructional videos on the installation of Apex parts are available on Apex's YouTube channel.