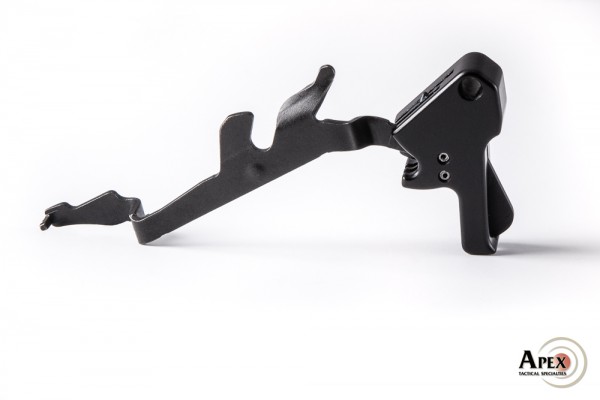 LOS OSOS, Calif. – Apex Tactical Specialties announced the upcoming release of the new Apex Flat-Faced Forward Set Trigger for the 9mm, 40S&W and 45ACP Walther PPQ, designed to reduce overall trigger travel by approximately 40% without noticeably reducing the factory trigger pull weight.
"Following on the success and popularity of our patented Forward Set Triggers for the Smith & Wesson M&P, Walther approached us about developing an aftermarket trigger upgrade for their PPQ model," explained Randy Lee, president of Apex Tactical Specialties. "The PPQ is already equipped with one of the best factory triggers available in a striker-fired pistol, but after working with the pistol's fire control system we came up with a design that is on a par with our flagship trigger for the M&P."
The new PPQ Flat-Faced Forward Set Trigger comes with an Apex Tuned Trigger Bar and replaces the factory polymer trigger with an anodized aluminum trigger body featuring a center mounted pivoting safety. The trigger's design reduces pre-travel and overall travel, shortens the reset, provides a smooth uptake and reset and delivers a crisp trigger break. Overall trigger travel is reduced by approximately 40%, but does not noticeably reduce the factory trigger pull weight.
The new PPQ Flat-Faced Forward Set Trigger with Apex Tuned Trigger Bar, part #118-110, will be available for $129.95, and will begin shipping in early February of 2016. Dealers and distributors can order the new trigger by contacting Apex at dealer@apextactical.com or calling (805) 528-5250.
Features and Specifications:
– Black anodized aluminum trigger
– Direct drop-in replacement of factory polymer trigger
– Smooths uptake and reset
– Provides crisp trigger break
– Reduces pre-travel, and over travel and shortens reset
– Overall trigger travel reduced by approximately 40%
– Center mounted pivoting safety maintains factory safety values
– Fits both the PPQ M1 and M2 models in 9mm and 40S&W, as well as the new 45ACP
– Apex Part #: 118-110
– MSRP: $129.95
For more information on parts and services from Apex Tactical Specialties, visit www.ApexTactical.com, like Apex Tactical on Facebook or follow @ApexTactical on Twitter and Instagram. Instructional videos on the installation of Apex parts are available on Apex's YouTube channel.