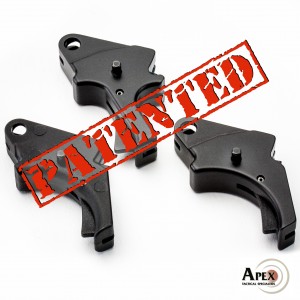 LOS OSOS, Calif. – Apex Tactical Specialties announced that it has been awarded a patent by the United States Patent and Trademark Office for a "firing mechanism for a firearm" covering the company's Forward Set Sear and Trigger products.
Covered by U.S. patent number 8,863,425, the Apex Forward Set Sear and Trigger is designed to reduce total trigger travel creating a more responsive trigger in a striker-fire pistol, and one reminiscent of the trigger feel in a single-action pistol.
This is the third patent Apex has received.
"Since the introduction of our Forward Set Sear and Trigger system it has been one of our most popular upgrades for the Smith & Wesson M&P series of pistols. The improvement in the trigger pull experience over a factory system is significant, and for many customers it is what defines an Apex upgrade," explained Randy Lee, president at Apex Tactical Specialties and the designer of the Forward Set Sear and Trigger system.
Apex Forward Set Sear and Triggers are available from ApexTactical.com, Brownells.com, MidwayUSA and local firearms dealer.
For more information on parts and services from Apex Tactical Specialties, visit www.ApexTactical.com, like Apex Tactical on Facebook or follow @ApexTactical on Twitter and Instagram. Instructional videos on the installation of Apex parts are available on Apex's YouTube channel.