LOS OSOS, Calif. – Apex Tactical Specialties, the California-based manufacturer of aftermarket firearms parts, announced that it is sponsoring the Texas A&M Corps of Cadets Marksmanship Unit and has donated parts and accessories to support the Unit's competition Glock pistols.
[caption id="attachment_1184" align="aligncenter" width="450" caption="Randy Lee and Scott Folk of Apex flank Coach Kevin Jimmerson and Tyler Toppenberg of the Texas A&M Corps of Cadets Marksmanship Unit."]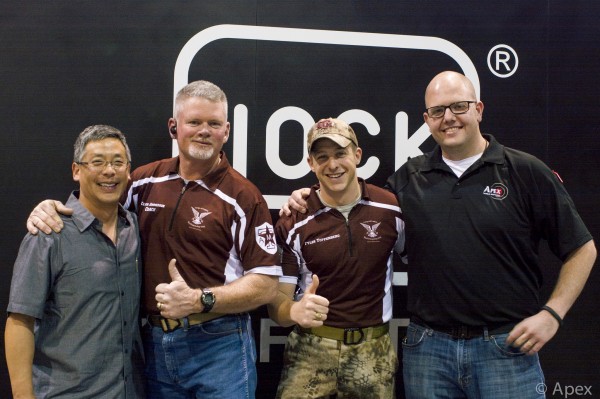 [/caption]
"Apex is happy to see the surge in collegiate shooting programs. While Cal-Poly is right here in our backyard and our obvious home team, we're proud to support the Corps of Cadets Marksmanship Unit at Texas A&M. Theirs is one of the great educational institutions in the nation and now home to an excellent shooting program deserving of support from industry leaders like Apex," said Scott Folk, vice president of Apex Tactical Specialties.
Founded in 2012, and rapidly growing as the nation's premier collegiate shooting team, the Corps of Cadets Marksmanship Unit at Texas A&M competes state-wide and nationally in a variety of shooting sports. Thanks to the full support of the Corps of Cadets, the leadership and coaching of numerous and selfless volunteers, and the backing of generous sponsors, the CCMU has been able to progress quickly from a concept, into a highly competitive and award winning team.
"We are grateful to Apex for their generous support of our Corps of Cadets Marksmanship Unit (CCMU), and appreciate all that they do to promote the growing collegiate shooting sports programs throughout the United States," said Brigadier General Joe E. Ramirez, Jr, Commandant of Cadets at Texas A&M University.
"It is support like this from Apex, a world class manufacturer of firearms parts, that allows teams like the CCMU to give young men and women the opportunity to learn, train, and compete safely in a challenging sport with first class equipment. We appreciate all that Apex does for Texas A&M's CCMU and all the other collegiate shooting programs across the country."
For more information on the Texas A&M Corps of Cadets Marksmanship Unit, visit www.cocmu.com or like them on Facebook.
For more information on parts and services from Apex Tactical Specialties, visit www.ApexTactical.com, like Apex Tactical on Facebook or follow @ApexTactical on Twitter. Instructional videos on the installation of Apex parts are available on Apex's YouTube channel.