LOS OSOS, Calif. – Apex Tactical Specialties, the California-based manufacturer of incredibly popular aftermarket firearms parts, announced that it is sponsoring the Cal Poly Marksmanship Club for the 2014-15 school year and has donated $1,500 to the collegiate shooting group.
[caption id="attachment_1176" align="aligncenter" width="450" caption="Scott Folk and Randy Lee of Apex with the leadership of the Cal Poly Marksmanship Club."]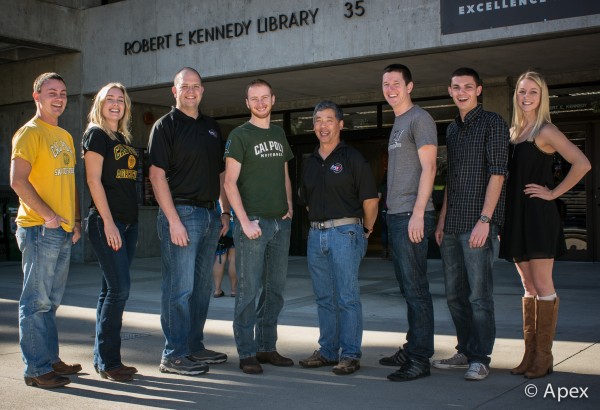 [/caption]
"As a proud graduate of Cal Poly's engineering school I am excited to see the shooting sports taking off with the Cal Poly Marksmanship Club. Here at Apex we maintain close ties to Cal Poly with two engineering students on our staff, and by sponsoring the Marksmanship Club we hope to not only see the shooting sports grow at the collegiate level but also to open the firearms industry doors to more engineers," said Randy Lee, founder and president of Apex Tactical Specialties.
Formed late last school year, the Cal Poly Marksmanship Club is bringing the excitement and fun of the shooting sports to students at California Polytechnic State University - San Luis Obispo. Situated on California's Central Coast, Cal Poly is best known for its Engineering, Architectural and Agricultural programs, but thanks to a generous grant from the National Shooting Sports Foundation's Collegiate Shooting Sports Initiative, and additional support from Apex, the school is planning to make a name for itself among the growing number of collegiate programs.
"Accomplishing the club's vision would not be possible without industry sponsors, and Apex has been supporting us however they can since day one. We're extremely grateful for all their support this past year, including the generous donation for our shirt fund," said Sam Griebstein, president of the Cal Poly Marksmanship Club.
The donation by Apex will used, in part, to underwrite the cost of t-shirts to be distributed to all members of the Cal Poly Marksmanship Club. The group is hoping to recruit as many as 150 members by the end of the school year.
For more information on the Cal Poly Marksmanship Club, visit them on Facebook at facebook.com/CPMarksmanship.
For more information on Apex parts and services, visit www.ApexTactical.com, like Apex Tactical on Facebook or follow @ApexTactical on Twitter. Instructional videos on the installation of Apex parts are available on Apex's YouTube channel.