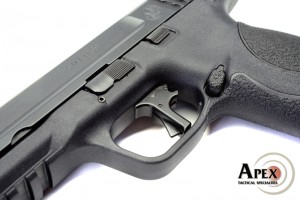 LOS OSOS, Calif. – Apex Tactical Specialties announced the release and immediate availability of the new Flat-Faced Forward Set Sear & Trigger Kit. Previewed at the 2014 NRA Show in Indianapolis, the design of the Flat-Faced Forward Set Trigger was extremely popular with customers who were looking to replicate the feel of a flat 1911 type trigger but in an M&P pistol. "Following on the success and popularity of our Forward Set Trigger, we looked to further increase the performance of the M&P's fire control system with a trigger profile closer to what 1911 shooters experience. The new Flat-Faced Forward Set Trigger delivers a feel and performance of a factory 1911 type trigger at an approximate weight of 4.0 to 5.0 lbs," explained Randy Lee, president at Apex Tactical Specialties. Designed to work in any Smith & Wesson M&P model pistol in a centerfire caliber, the Apex Flat-Faced Forward Set Sear & Trigger Kit reduces trigger pre-travel and over-travel, while allowing the shooter to position their finger at an increased leverage point lower on the trigger face to take advantage of lower trigger pull weights. Included in the full kit are the Apex Forward Set Sear which shortens the stroke of the trigger by dropping the striker at a point farther forward than the factory sear. The Ultimate Striker Block produces a smoother trigger pull and eliminates most false reset issues through an improved radius on the striker block face. The Forward Set Spring Kit produces a trigger pull of 4.0 to 5.0 lbs (depending on trigger return spring installed). The new Apex Flat-Faced Forward Set Sear & Trigger Kit, part #100-054, retails for $169.95 and is available now at
ApexTactical.com
,
Brownells.com
,
G&R Tactical
and
Speed Shooter Specialties
. Customers who already have an Apex Forward Set Trigger Kit installed in their M&P and want to install the new Flat-Faced Trigger should contact Apex Tactical Specialties at (805) 528-5250 or
[email protected]
for options.
Features and Specifications:
– Lowers trigger weight between 4.0 and 5.0 lbs – Smooth uptake and reset – Total trigger travel similar to most factory 1911 type pistols – Center mounted pivoting safety maintains factory safety values – Works with all Smith & Wesson M&P pistols in centerfire calibers (excluding the Shield) – Easy to install (watch
Apex installation videos
) – Requires use of sear housing block designed for large size sear plunger and spring (current production as of June 2011) – Apex Part #: 100-054 – MSRP: $169.95 For more information on Apex parts and services, visit
www.ApexTactical.com
, like
Apex Tactical on Facebook
or follow
@ApexTactical
on Twitter. Instructional videos on the installation of Apex parts are available on
Apex's YouTube channel
.