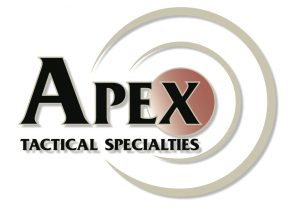 PEORIA, Ariz. – Winning four of the 13 stages, Scott Folk, co-owner and Vice President of Apex Tactical Specialties, took first Master and finished third overall in the 2016 Western States Revolver Championship held Thursday, November 10 at the Rio Salado Sportsman's Club in Mesa, Arizona.
Competing with his Apex custom tuned Smith & Wesson Model 627 revolver, Folk posted a final score of 1049.1625 points to outpace his fellow Master class shooter Kyle Schmidt by just over 100 points but falling more than 32 points and 82 points behind Grand Masters Caleb Higby (1081.8846) and match champion Rob Leatham (1131.3932).
Earlier this season Folk finished fourth in the Limited Division and 10th overall at the 2016 International Revolver Championship and was the overall champion at the 2016 Arizona State Revolver Championship. Both matches were governed by the International Confederation of Revolver Enthusiasts (ICORE).
Also competing in the match was Team Apex shooter Maddy Folk, Scott's wife, who claimed the championship's High Lady title finishing 29th overall.
For more information on Team Apex, or parts and services from Apex Tactical Specialties, visit www.ApexTactical.com, like Apex Tactical on Facebook or follow @ApexTactical on Instagram and Twitter. Instructional videos on the installation of Apex parts are available on Apex's YouTube channel.