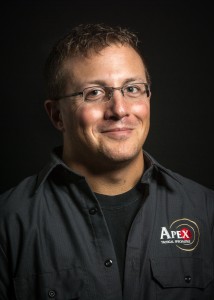 LOS OSOS, Calif. – Apex Tactical Specialties, the industry leader in aftermarket drop-in performance parts for handguns, announced that J.J. Schroeder has joined the company as a project specialist.
"We are very pleased to welcome J.J. on board at Apex Tactical Specialties. We have worked closely with J.J. for the last several years in his most recent position with Brownells, Inc. We feel he will be an exceptional addition to our team, adding industry and product knowledge to help Apex attain a larger sales and marketing footprint," said Randy Lee, president of Apex Tactical Specialties.
Schroeder, a graduate of Colorado School of Trades with a degree in Gunsmithing, has a broad firearms industry background with experience in supplier relations, product testing and evaluation, R&D, product and project management, marketing, promotions creation and analysis, supply chain logistics and customer and technical support. He is an avid shooter and a member of the NRA.
"I'm excited to join the team at Apex Tactical Specialties and this is a tremendous opportunity for me to continue to grow in the industry while at the same time helping to bring new, fun products to the market," said Schroeder.
For more information on parts and services from Apex Tactical Specialties, visit www.ApexTactical.com, like Apex Tactical on Facebook or follow @ApexTactical on Twitter and Instagram. Instructional videos on the installation of Apex parts are available on Apex's YouTube channel.