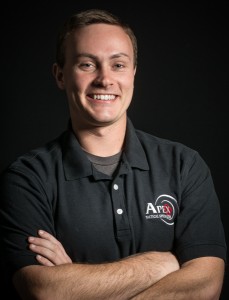 LOS OSOS, Calif. – Apex Tactical Specialties, the industry leader in aftermarket drop-in performance parts for handguns, announced that Matt Theiss has joined the company as a design engineer.
"We're very pleased to welcome Matt on board here at Apex. Over the last seven months we have worked closely with Matt as one of our interns and he has proven to be a valuable addition to our design team. As a full-time member of the Apex team I know Matt will play an integral role in helping us bring more of our innovative products to market," said Randy Lee, president of Apex Tactical Specialties.
Theiss is a graduate of the College of Engineering at the California Polytechnic State University in San Luis Obispo – ranked among the best engineering schools in the Western United States – where he majored and received his degree in Mechanical Engineering. He is a member of the Tau Beta Pi engineering honor society and the Pi Tau Sigma international mechanical engineering honor society.
An active shooting sports enthusiast, Theiss is a member of the National Rifle Association, the California Rifle and Pistol Association and routinely competes locally in NSSF Rimfire, USPSA and 3-Gun competition. He also co-founded the Cal Poly Marksmanship Club and will serve as the liaison with the group on behalf of Apex Tactical Specialties.
"Joining Apex full time is a great opportunity to continue the design work I started during my internship. As a Cal Poly graduate it's particularly rewarding to be working side-by-side with fellow Cal Poly alum Randy Lee and continuing to build on the great design legacy that Apex has achieved," said Theiss.
For more information on parts and services from Apex Tactical Specialties, visit www.ApexTactical.com, like Apex Tactical on Facebook or follow @ApexTactical on Twitter and Instagram. Instructional videos on the installation of Apex parts are available on Apex's YouTube channel.