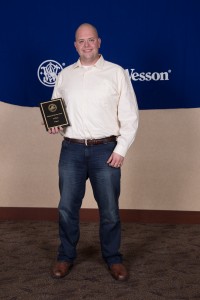 LOS OSOS, Calif. – Scott Folk of Team Apex took 1st Expert in the Enhanced Service Pistol (ESP) division this past weekend at the 2015 Smith & Wesson IDPA Indoor Nationals.
Folk shot the match using a Smith & Wesson 9mm Pro pistol outfitted with an Apex Flat-Faced Forward Set Sear & Trigger Kit and drawn from a Comp-Tac brand International holster.
With his final time of 258.72 seconds and scoring 56 point down, Folk finished 11th within the ESP division and 30th overall among the 328 shooters competing in the championship. As a result of his match performance, Folk moves up to the Master class in ESP. He is classified as an Expert in the Custom Defensive Pistol division and a Master in Stock Service Pistol.
"The Smith & Wesson IDPA Indoor Nationals is one of the toughest matches I compete in all year, but it's also one of the most rewarding. Smith & Wesson, along with a great staff, make this a great way to kick off a new season of shooting. Hopefully, finishing first Expert bodes well for the rest of my 2015 shooting schedule," said Folk.
In addition to competing in the match, Apex Tactical Specialties supported the championship as a stage sponsor. Folk also worked the match as the on-site gunsmith helping competitors maintain their equipment, and in a handful of cases fixing equipment issues that would have resulted in a match disqualification.
For more information on Team Apex, or parts and services from Apex Tactical Specialties, visit www.ApexTactical.com, like Apex Tactical on Facebook or follow @ApexTactical on Twitter and Instagram. Instructional videos on the installation of Apex parts are available on Apex's YouTube channel.