We had a few shooters from South Dakota come in today after shooting their
ICORE
Classifiers to check out
Apex
and see what this place is all about.  Being the social butterflies we are, they stuck around for a bit and Tom Kilhoffer dropped in with some of his
Moonclips
.  One of the guys pulls out a really sweet tool used for Mooning and Demooning, so I thought I'd share it with the world.
This is the B.M.T. Model N3-8 Mooner/Demooner.  This little sweetie is machined of solid Nylon for the lower and Nickel plated steel for the upper and works like a charm. You drop on an empty moonclip, drop in your ammo, set the top on and give it a half turn and you're done. Being quality machined parts, it works flawlessly and is as fast as can be. This little beauty is going to be incredibly popular incredibly fast.  This is the model for the 8 shot 38/357 S&Ws.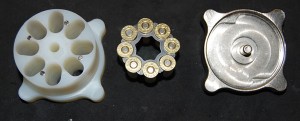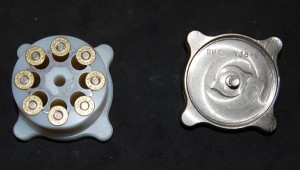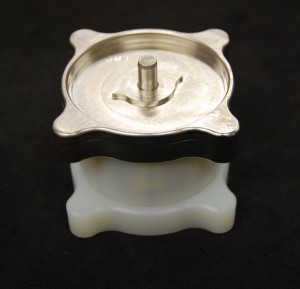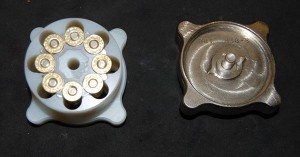 The model for the 45 is a bit different, but just as cool.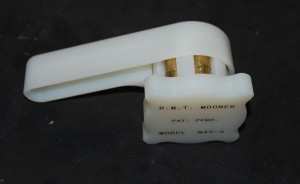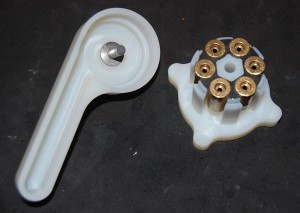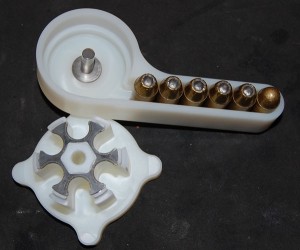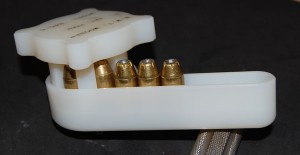 If you're interested in one of these tools, they retail for $80 and are available from Randell Kenner.  Randall's contact information is as follows: Randell Kenner 3111 Lien Street Rapid City, SD 57702 605-348-3538
[email protected]
He doesn't have a web page yet, but will have one soon. Scott