Apex Announces New Aluminum AEK Triggers for M&P Pistols
LOS OSOS, Calif. – In response to the soaring popularity of the Forward Set Sear (FSS) and Trigger Kit, Apex Tactical Specialties, Inc. (Apex) announces the upcoming release of their new Action Enhancement Kit (AEK) Trigger, a new addition to their growing line of drop in parts for the Smith & Wesson M&P pistol.
Designed to work as a stand-alone drop in part, or in conjunction with either Apex's Duty Carry or Competition Action Enhancement Kits, the AEK Trigger delivers improved trigger control with reduction in both pre-travel and over-travel.
"When we released the Forward Set Sear and Trigger Kit, we were inundated with requests from customers for a similar trigger that could work with our popular Action Enhancement Kit, or as a stand-alone item," said Randy Lee, president of Apex. "Like all Apex parts the new AEK Trigger gives our customers the enhanced performance they demand in a duty carry gun or in competition."
The new AEK Trigger is machined from a solid piece of aluminum billet and hard coat anodized for durability. With ergonomics similar to the FSS Trigger, and a center-mounted pivoting safety design, the AEK Trigger provides outstanding performance with increased safety values over other designs.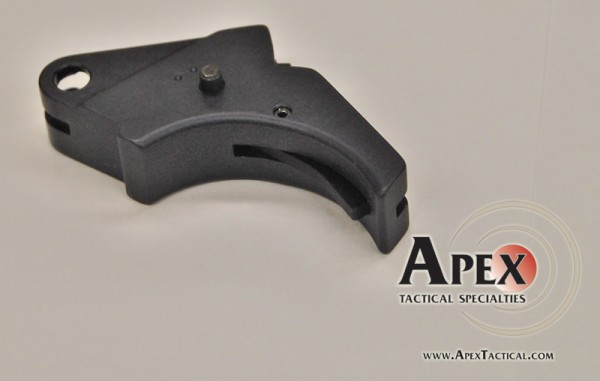 Retailing for $74.95, the new AEK trigger will be available April 9th from ApexTactical.com, as well as through Apex's network of dealers and distributors. For those interested in maintaining a close to stock outward appearance to their pistol, Apex is developing a polymer trigger offering similar benefits to the alloy triggers which will be available later this year.
For more information on Apex parts and services, visit www.ApexTactical.com, find Apex Tactical on Facebook or follow @ApexTactical on Twitter.
Media Contact:
Scott Folk
scott@apextactical.com