From the Desk of Scott Folk
As Turkey Day approaches, we find ourselves making plans for next year—like filling up white boards with new product ideas and erasing half of them because they're terrible ideas that nobody would want to hear about. But before we go talking about all the new products we're working on, we want to tell you what's coming up at the end of this year. Some of these products will be released this year and others will be released early next year; but the timelines are getting shorter by the day.
Glock Extractors – Release Date: 11-20-12
In October we released the first batches of our Glock Gen 4 Failure Resistant Extractor a.k.a. the G-FRE Gen 4. They sold out within a couple of hours and we've been working with our machine shop to crank more out as fast as humanly possible. The latest batches of Gen 4 and Gen 3 G-FRE's just arrived today and we have moved them to the kitting benches for bagging and QA inspection. We'll have them up on the Apex Tactical web page for sale on Thursday, November 15, 2012.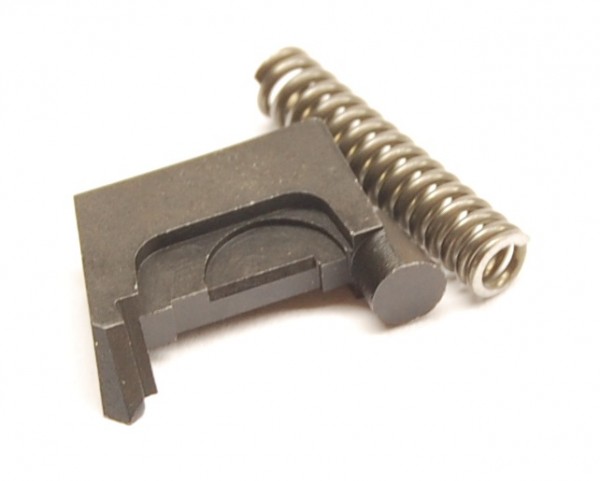 Apex/Bar-Sto M&P Barrels – Release Date: December 2012

The Apex/Bar-Sto M&P barrels are nearly ready to roll out the door. After more than a year in R&D, the barrels are on the way from Bar-Sto. The initial batches will be for the 4.25" and 5" 9mm M&P's, so those of you with a full size or Pro / L M&P will have yours first. Fitting services will be available from Apex or you can have them fitted by the gunsmith of your choice. The 4.25" Apex/Bar-Sto barrels will retail for $225.00 and the 5" barrels will retail for $235.00. The first batches of barrels will not be available as extended and threaded, but those features will be offered down the road.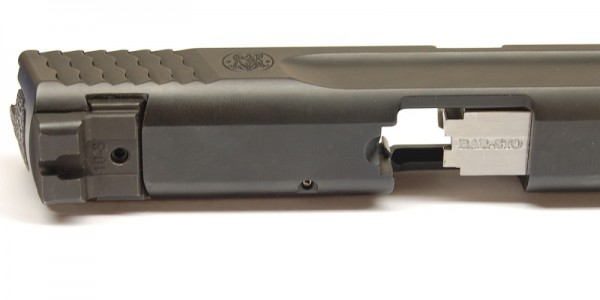 Curve RAM – Release Date: Not Yet Available
We've been talking about the Curve RAM for quite some time now and all the information we've been able to share is the name of the product. We're still working on the final design tweaks before the Curve RAM will be ready for its unveiling; but we are making progress. The Curve RAM will work in all models of the M&P that are thumb safety capable, which means the 45 caliber guns, V-Tac and any other M&P that does not have the space for the ILS. The next batch of prototypes is in process. Once they arrive here, we'll be on the range for days on end, testing their function and durability.
Apex Armorer's Block – Release Date: December 2012
If you've watched our installation videos over the past couple of years, you might have seen a black metal block sitting on the bench. We use this block to hold the pistol frame in place while we tap pins in and out. This block has been dubbed the Apex Armorer's Block and, due to popular demand, we're going to offer it as a standard product.
The blocks used in most of the videos are a pair of aluminum blocks we had built right before going to the NRA Annual Meeting in Pittsburgh, PA back in 2011. These blocks have fixed bosses on them to keep the frame in position, and are only usable with the full-size and compact 9, 40, and 357 caliber frames.
The new Apex Armorer's Block is made from high-impact polymer, has movable bosses, and is equipped to help install the FSS and AEK triggers. It also has a space to hold the striker while you swap out the striker springs. We'll be retailing the Apex Armorer's Block for $29.95. It will also be available through our network of dealers and distributors.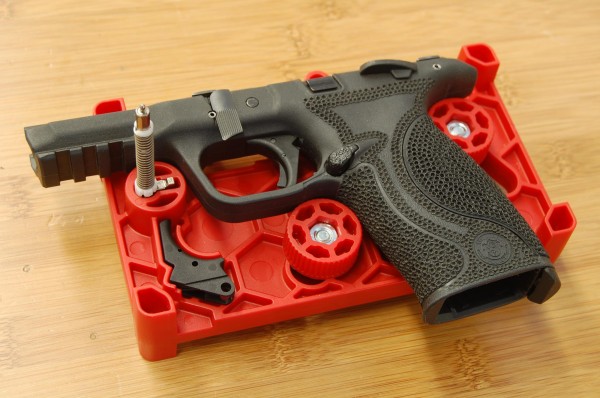 Polymer Triggers – Release Date: January 2013
Since the creation of our aluminum Forward Set and AEK Triggers, we've been talking about making our triggers available in polymer to lower the price for the average gun owner. We're happy to announce that we've received the first prototypes of the polymer Forward Set Trigger and AEK Trigger, and they're exactly what we wanted. These polymer triggers will be available in a Polymer Forward Set Kit and as a Polymer AEK Trigger add-on option for the DCAEK and Competition AEK. We expect to retail the polymer triggers in the $40 range when they're released. Our Polymer FSS Kit and Polymer AEK Trigger will also be available through our network of dealers and distributors.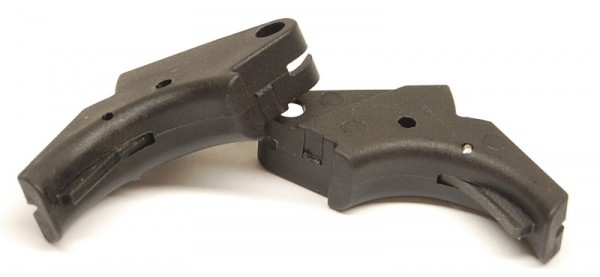 AR-15 and AR-10 Compensators – Release Date: January 2013
In early October, we posted a teaser picture on our Facebook page about an AR-15 compensator we've been working on for a while now. This compensator is designed for competitive shooters and, more specifically, for 3 gunners. Our compensator reduces recoil significantly and flattens out muzzle rise without any negative muzzle rise effect. We're producing two versions of our AR-15 compensator. The first known as "Comp 1," will retail for $64.95. Our second model dubbed the "Apex Square Shooter," will retail for slightly more and will have a distinct appearance and carry the Apex logo. Both compensators are made from 4100-series "Ordnance Grade" steel and will be heat-treated to last a lifetime. They will also be Melonite-treated so the finish will last as long as the steel beneath.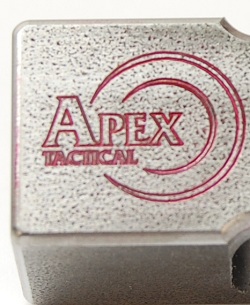 M&P 22 Conversion – Release Date: Unknown
It's true! We are working on a 22 conversion for the M&P line of pistols. We don't know how long it's going to take or when we'll have more progress to report, but it's in the works. We're planning to build it to fit the 9, 40 and 357 caliber frames first. Then we'll go for the 45-caliber frames, and finally the Shield, but all in good time. First things first, we need one for the full-size guns, so we're working on that as our top priority.
As always you can contact us at guns@apextactical.com or navigate to the Contact tab on our web page.
Thanks for reading
Scott