Dear Valued Apex Customer,
The brisk autumn air is now biting at our frigid fingertips.  We here at Apex Tactical are hoping to warm your eager hands with our exciting new products!  Our newest product releases in 2013 have been the Polymer versions of the Forward Set & AEK Trigger Kits, AR Square Shooter, Enhanced Stabilization Attachment, HearthCo Moonclips, SD/Sigma Action Enhancement Trigger Kit, and the brand new Semi-drop in Hammer Kit, and Apex Sear, for revolvers.  Along with our latest additions, we would like to keep all of our friends and valued customers up to date with the progress of our ongoing projects and ideas.  Apex has some brand new products we are working on for release in the future. A handful of these products include; the Armorer's Block Tooling Plate, Magazine Extensions for the Sig, SD, Sigma, and M&P, as well as, Glock 40 and 45 caliber extractors.  These parts are sure to advance your firearm's performance, and ease of use.  As you are most likely aware, we have also been working diligently on a replacement trigger for the M&P Shield. This trigger is of the utmost priority to us at this time, and hope to have it released just in time for the holidays, 2013.
We are very proud to be able to supply all of our customers with outstanding parts and service.   The Apex Tactical Specialties staff has grown into a customer service driven team who are both knowledgeable and attentive to our customer's needs. Thanks to your continued support we have been able to expand our business, enabling us to spend more time on the continued improvement of our products for your revolvers, M&P pistols, Glocks, and AR rifles.  Please read on to find out more details regarding all of these products and any future release dates we have available.
Visit our website and Facebook for all of our new releases and announcements.
https://www.apextactical.com/index.php
AR Square Shooter & Enhanced Stabilization Attachment (ESA)
The one of a kind Square Shooter AR-15 Compensator features a square body, and the ESA is the rounded version.  Each style of compensator is made from ordnance grade steel and Melonite finished for durability and longevity.   The steel structure emphasizes three interior chambers within the baffles, and inline gas port designed to utilize propelling gases in order to reduce recoil.  This new design will reduce muzzle rise significantly, allowing for the sights to be realigned quickly for faster follow up shots. These compensators will eliminate negative recoil impulse/downward dip.  The quality and impressive new design will assist the user with staying on target, while giving them more uniform grouping on the range.  The Apex Square Shooter or ESA will enable you to feel more in control of your firearm because of the reduced recoil.  Both compensators include a crush washer for proper fitting.
Apex Square Shooter AR-15 Compensator retail price $79.95
Enhanced Stabilization Attachment retail price $59.95
Polymer Forward Set & Action Enhancement Trigger Kit
Apex polymer triggers are specially designed for the ultimate in comfort for your trigger pull.  Each style presents improved functionality, while providing you with exceptional trigger finger comfort.  They feature a solid polymer body, and center mounted pivoting safety, allowing for the ultimate in firearm safety.  The Apex Polymer triggers are designed to improve the feel and functionality of the Smith & Wesson M&P pistols.  The Apex polymer triggers are offered in the Polymer Action Enhancement Trigger Kit, as well as the Polymer Forward Set Sear and Trigger Kit.
The Polymer Action Enhancement Trigger Kit will reduce pre-travel and over travel about 20%, and provides the user with a fluid trigger pull.  When combined with the Apex Duty Carry Action Enhancement Kit (DCAEK), this trigger can bring your hefty factory trigger pull weight down to, 5-5.5lbs.  When combined with the Apex Competition Action Enhancement Kit (Comp AEK), your trigger pull weight will be reduced to below 3lbs. These features are designed to give you an assured, positive firing action with your M&P pistol.
The Polymer Forward Set Sear and Trigger Kit has all the same effective components of our original Forward Set Sear & Trigger Kit, advancing your M&P pistol with a 50% reduction in pre-travel and over travel, while taking your pistols trigger pull weight to around 3.5-5lbs depending on the trigger return spring of your choice from the kit.  The new polymer triggers offer a more rounded style for ease of use. Our Forward Set kits now offer a heavy duty trigger return spring for use in duty carry pistols, giving the user a trigger pull weight of 5-5.5lbs.  For use in Smith & Wesson M&P Semi Auto Pistols - 9, 40, 357 Sig and 45 ACP models. *Not applicable to M&P Shield.
Polymer Action Enhancement Trigger Kit retail price $39.95.
Polymer Forward Set Sear & Trigger Kit retail price $129.95.
HearthCo 8-Shot S&W Moonclips
(RP/Federal Brass)
You heard right, HearthCo Moonclips! These clips are made from stainless steel to prevent corrosion, manufactured via wire EDM technology producing a flat, but durable product.  HearthCo moonclips are designed to work specifically with magnetic moonclip carriers.  They are for use in Smith & Wesson 8 shot, .38 Special, and .357 revolvers with cylinders modified to accept full moonclips.  Each clip holds eight rounds of ammunition (Remington-Peters or Federal brass is recommended).  HearthCo moonclips reassure you that your competition reloading will be smooth and fast.  Starline Brass models coming soon!
Retail price $64.95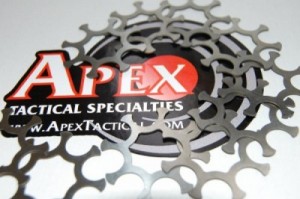 SD Polymer Action Enhancement Trigger Kit
(SD & Sigma)
The SD AETK is the latest addition to the Apex product line.  Our SD and Sigma Spring kits have been so popular; we decided to develop an even more improved shooting experience with your SD or Sigma model pistol.  The polymer trigger has a rounded face, which produces a smooth and comfortable surface for the shooter's finger while firing.  Pre-travel is reduced by approximately 20% and over travel by 10%, from the original factory trigger.  The SD AETK may be used independently or with our SD, or Sigma Spring Kit.  When used in conjunction with the SD or Sigma Spring Kit, the trigger pull weight is reduced from 8lbs to around 5.5lbs.  Together the SD AETK, and our SD or Sigma Spring Kit will make your SD or Sigma a brand new, reliable and satisfying, gun to shoot!Some minor fitting may be required.
Retail price $39.95.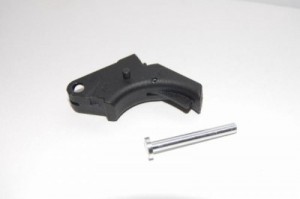 Semi-drop in Hammer Kit, and Apex Sear for Revolvers
Available now!
Just released; Designed for the K, L, and N frame revolvers, these Semi-drop in Kits contain a spur less hammer.  This kit comes complete with an Apex Fully Machined Revolver Sear pre-installed, along with the appropriate pins and stirrup, and two rebounds springs to choose from (light & medium).  The Apex Evolution 4 hammers improve hammer throw leverage to produce a lighter trigger pull, while delivering superior striking force to the firing pin. This Semi-drop in Hammer Kit converts your gun to a Double Action Only when installed.
Retail price $189.95
M&P Shield Action Enhancement Trigger Kit
Expected release:  Winter 2013
The Shield Action Enhancement Trigger Kit directly replaces the factory hinged trigger with a solid aluminum trigger body.  The trigger features a flat face with a center mounted pivoting safety.  The Shield AETK reduces pre-travel and over-travel by approximately 20% from the factory trigger, and is perfect for use in the M&P Shield, already equipped with the Apex Shield Carry Kit.  We are very proud of this latest achievement, and strive to bring our customers a safe and reliable trigger for the M&P Shield.
Expected retail price $76.95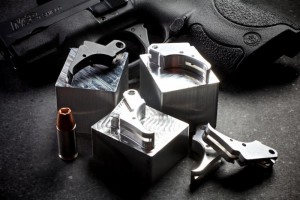 Magazine Extensions for Sig, SD, Sigma, & M&P
Coming Winter 2013
The Apex team has been hard at work designing and perfecting magazine extensions for the Sig, SD, Sigma, and M&P.  The extensions for the SD and Sigma will add three rounds to your magazine's capacity.  This product is extremely durable and made from 100% Aerospace Grade Aluminum.  The Apex SD and Sigma magazine extension will be hard anodized in black and clear.  Other colors will be available soon.*Dealers and distributors will be able to choose from a variety of colors.
Working in conjunction with Grand Master Shooter Roger Sherman, we will be releasing magazine extensions for Sig Sauer pistols and M&P's.  We expect to have Sig magazine extensions available for release, Winter of 2013 and M&P magazine extensions in early 2014.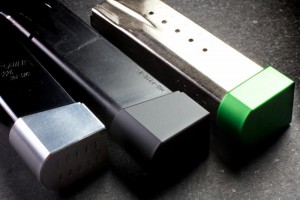 Glock 26, .40 Cal & .45 Cal Extractors
In house service only, and not released.
The Glock 26 extractor has been tested and few are available through our Gunsmith's directly.  These can only be installed by an Apex Gunsmith inside our facility.  The Glock slide will have to be modified in order for the part to function properly.  This kind of modification will void the manufacturer's warranty.
Extractors for the Glock 40 and 45 caliber models have been something Randy has spent quite a bit of time working on.  The extractor for the .40 has been tested and will be ready for release by Spring 2014.  The extractor for the .45 is still in the design phase.
Armorer's Block Tooling Plate
Will be available just in time for

Christmas

of 2013!
A polymer riser designed to work in conjunction with our Armorer's Block.  This plate will have snap-in inserts and slots to hold specific armorer's tools, such as: pin punch, hex key, and Talon Tactical tool.  This polymer plate attaches to the underside of the Armorer's Block providing a raised surface for you to work on your M&P (9mm, .40, .45 & Shield), and Glock pistols.  A must have addition for all your armorer needs!
Not Yet Released
Some of you may have heard that the initial batch of barrels was finished and sent to us.  This was true, however, the first batch we received did not feed reliably, and the design had to be re-evaluated.  Apex requires the utmost in excellence regarding the quality and reliability of our products.  Unfortunately, because of these issues, the Bar-Sto Barrels will not be released for an undetermined amount of time.  We currently do not have a release date.  However we will keep you updated on any new information regarding the arrival of the finished product.  When they do become available, they will be for the 4.25" and 5" 9mm M&P's.  Fitting services will be available from Apex or you can have them fitted by the gunsmith of your choice.  The first batches of barrels will be flush to the end of the slides.  Threaded and extended models will be offered in the future.
Not Yet Released
The Universal RAM (U-RAM) is currently still in the prototype phase where we are working with material selection and testing.  Apex has extremely high standards for our products, and it will not be released until the current design meets our standards for quality and service life.  The Universal RAM will work in all models of the M&P that are thumb safety capable, which means the .45 caliber guns, V-Tac and any other M&P that does not have the space for the ILS.    M&P 22 Conversion - Not YetReleasedYou may know already that we have been working on a .22 conversion for the M&P line of pistols, built to fit the 9, 40, .357, caliber frames.  We will eventually work on kits for the .45 and Shield. The .22 Conversion for the top end of the M&P is still in the design phase.  Proper function in the converted design requires laborious hours and steps from concept to finished product.  Apex requires extensive focus on functionality, durability, and most of all, safety.  The .22 Conversion for the M&P pistol will be released when all of these specifications are met.
And now...
A moment with Randy in the eye of the Sharknado III universe:
They say 13 is an unlucky number. I have to disagree. Thirteen years ago, Apex Tactical Specialties, Inc. came into existence as a business entity. Our mission was simple: provide the highest quality custom pistol work we could provide. No one knew who we were, or what we did except for local law enforcement officers and a few competitive shooters. There were only two of us back in 2000.
Thirteen years later, I am surrounded by people who genuinely care about the products we make, sell and ship. From action work to tracking an order, the people here go the extra mile to ensure that you are satisfied in choosing to use our products and/or services. On behalf of all who work here at Apex, thank you.
-Randy
A moment in the cold void of outer space from Scott's intergalactic cruise ship:
It's been a crazy few months.  We've been working to augment Apex's infrastructure to support the growth we've been experiencing.  We added another Haas CNC mill to our floor to keep up with sear production while we continue to experiment with new product ideas and manufacturing techniques.  We're also growing our team of customer service and shipping & receiving staff to handle the increased work load.  A new web page is in the works that will include an online quote form for most M&P action work and a new look for our online presence.  We're very fortunate to have such a great customer base and I look forward to providing more high quality products for our present and future customer base.
We would like to thank you for your patience with us regarding our long awaited unreleased products.  Thank you again, for being valued customers.  We greatly appreciate your patronage.
Very Truly Yours,
Tamara