We're nearing the release of the Apex Reset Assist Mechanism (RAM); only 10 more days until the midnight launch. With the big day nearing, we wanted to put out some additional information for our patiently waiting customers.
The RAM is designed to work in all Smith & Wesson M&P pistols chambered in 9mm, 40 S&W and 357 Sig that are not equipped with thumb safeties or the ILS. If you gun matches the following picture and has the frame plug in (Arrow pointing to it) , your gun will accept the Apex RAM.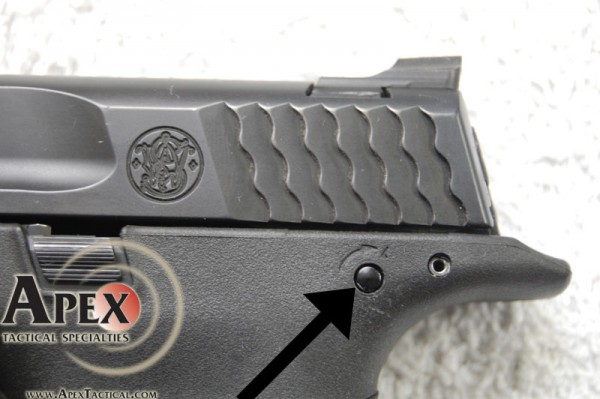 The Apex RAM features include:
1. A more pronounced and positive tactile trigger reset.
2. Failsafe reliability if a trigger return spring breaks, allowing te shooter to manually advance the trigger for follow up shots
3. 100% proudly made in the United States
The RAM will be releasing to the world at Midnight the night of November 1, 2010. They will be available online on our web store as well as from most of our dealers all across the country.
The RAM will retail for under $30.
We're producing a RAM spring specifically for the M&P's with the Magazine Disconnect, it will be available soon.