We've just released the new Gunsmith Fit Sear for the M&P. Here's the product data sheet:
Apex M&P Gunsmith Fit Sear (GFS)
Products included: 1
A) Gunsmith Fit Sear (GFS)
What it does
The Apex Gunsmith Fit Sear is precision machined from a billet of A2 tool steel to produce the most durable product available. The sear cam lobe is set to similar distance from the sear pivot point as the factory sear. Additionally, the rear face of the sear incorporates the exclusive Apex geometry. The result is a cleaner, lighter trigger pull with the same trigger break position as the factory original counterpart.
Like all of our sears, the GFS is fully heat treated and hardened throughout. This allows the gunsmith to shape the sear cam lobe to suit their customer's preference without the worry of affecting the inherent strength, durability or performance of the part.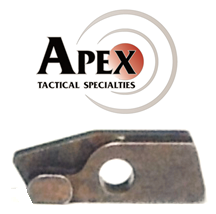 Expected results
• Smoother trigger pull
• Longer life expectancy than any other sear available
Applicable to what guns
All Smith & Wesson M&P Pistols and Shield. All sizes and calibers included.
Works in models with and without thumb safeties, magazine safeties and I.L.S.
SKU#: smithfit_mpsear
Retail: $39.95