I've been playing with the Shooboy Pro Hammer for the past few months and I've found it to be the most useful tool on my bench, I've used it for everything from tapping out tiny pins to driving nails into 2x4s.
I give you the "Shooboy Pro"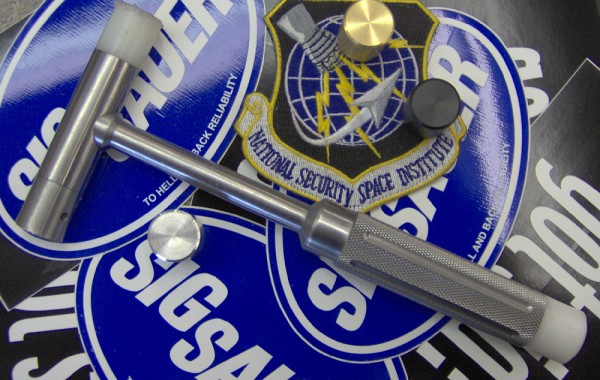 Features:
Knurled grip: Now that's what I call staying power.  Most Gunsmith specific hammers have the everyday cheap wooden handle that has no real traction on the handle, most of which I've added skate board tape to so it doesn't come flying out of my hand and whack a co worker or damage a good finished piece of metal.  The Shooboy has a steel grip that's been knurled and fluted to improve the user's ability to grip the hammer while swinging away.
All steel construction: The all steel construction of the Shooboy allows every bit of power from the user's swing to be transferred into the work piece.  No flex in the shaft or head means more direct energy transfer for installing and removing tough pins and stamping numbers and letters into metal work pieces.
Interchangeable Strike Face Inserts: The Shooboy comes with 5 Strike Faces.  1 Aluminum, 1 Brass, 1 Black Delrin, 1 White Nylon and 1 Steel.  The beauty of the interchangeable Strike Faces is that the non marring materials can be used for drifting pins and sights without much worry of damaging finished materials.  The steel Strike Face can be used for driving pin pinches and other general work where a hard faced tool would be beneficial.  The end of the grip of the test Shooboy has a nice large nylon cap which is very useful for hand fitting a barrel to a slide.
Overall size: The distance of the center of the head from the center of the grip is perfect.  I've found that every hammer specifically made for gun smithing has a grip that's so long that can't be held correctly and still the precision the user needs.  If you take a look at standard carpentry hammers they're designed for you to grip them low on the handle, which means that you have all kinds of swinging power, but sacrifice a certain amount of accuracy for the power gained.  The Shooboy keeps the grip nearer the head for improved accuracy and stability.
Author's thoughts: When I opened up my Shooboy Pro, the first thing I thought to myself was "Wow, what a piece of art".  The machining is clean and beautiful; not like that matters, but it sure makes a good impression toward the care and precision taken in the production of this immaculate tool.  Randy has really outdone himself with this one; he's taken his purpose built hammer and made it exactly what I've been looking for for years.
The Shooboy Pro retails for under $50.  In my opinion, this is a cheap tool that will last a life time.
You can find more information on Shooboy hammers at http://www.shooboytools.com/
Flork
And a shot of my first Shooboy before I attempted to destroy it.