I'm pleased to announce the pending availability of the Apex Hearthco Series 1911/2011 Hammers. I know you're probably thinking that this will be just another 1911 hammer, but this one is far from it.
Dave Hearth, maker of the best Moonclips on the face of the planet has put his considerable EDM skills toward making the best, longest lasting and most amazing hammer for the 1911/2011 market.
When you have your gunsmith build a 1911 or 2011, he/she will normally select a handful of parts that he/she likes the best, generally a Wilson Combat Hammer, EGW Sear and Cylinder and Slide Disconnector are amongst the high end parts put in most guns....well I'm here to tell you that we have a different hammer for you.
The Hearthco 1911 hammer looks almost like most any other hammer out there, but has a few minor changes that make a world of difference.
The hammer hooks aren't ground like most hammers, they're wire EDM'd, which means they're precision cut to a tolerance less than .0005" with 3 skim cuts that produce a finish that literally only needs a light touch with a honing stone to be absolutely smooth and consistent.
The greatest benefit of the Hearthco 1911 hammer is the pin holes....they've been moved around to produce less pressure on the sear, which allows you or your Gun Smith to set up a light trigger pull....and when I say "light" I mean in the 2lb or less range.
Most gunsmiths will tell you that they can produce a trigger pull in the 2lb range without a problem, but how long will it hold up? Most of them only hold up for 3-5000 rounds, that's because of how short the hammer hooks have to be cut to achieve the trigger pull weight desired and the amount of force being applied to the Sear by the Main Spring. The advantage of the Hearthco Hammer is that the hammer hooks can be left longer than normal and still produce a pull weight under 2lbs that will hold up for thousands upon thousands of rounds.
Dave and a few of his close friends/gun monkeys have been running Dave's prototype hammers for the past 10 years + and they've got 10's of thousands of rounds on their guns. Their trigger pulls are down in the 2lb range, all of which are used as Competition/Range only guns.
These are shots of the last Hearthco Prototype 1911 hammer we installed about 6 months ago.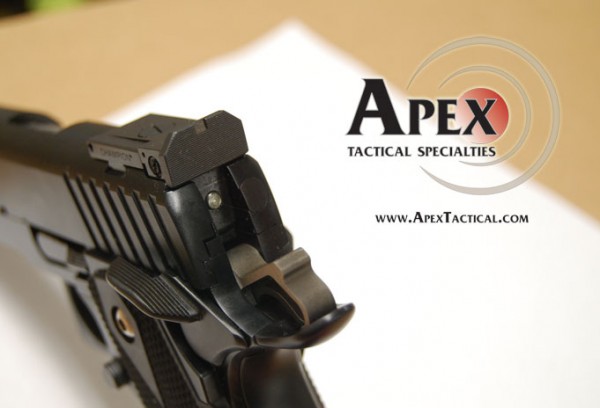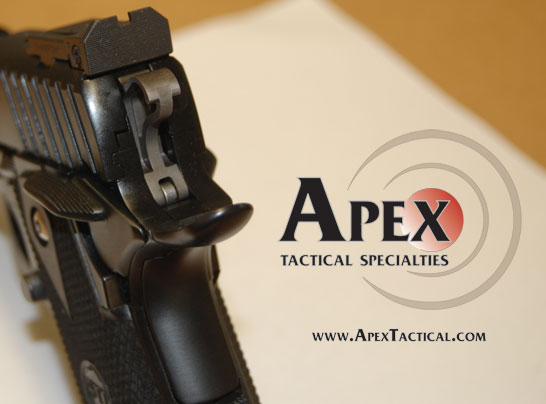 The production hammers look a bit different, they have cocking serrations on top and the back isn't cut out so deeply.
They'll be available on the Apex Web Store within a week and will be sold with the recommended EGW Sear and without.
Scott