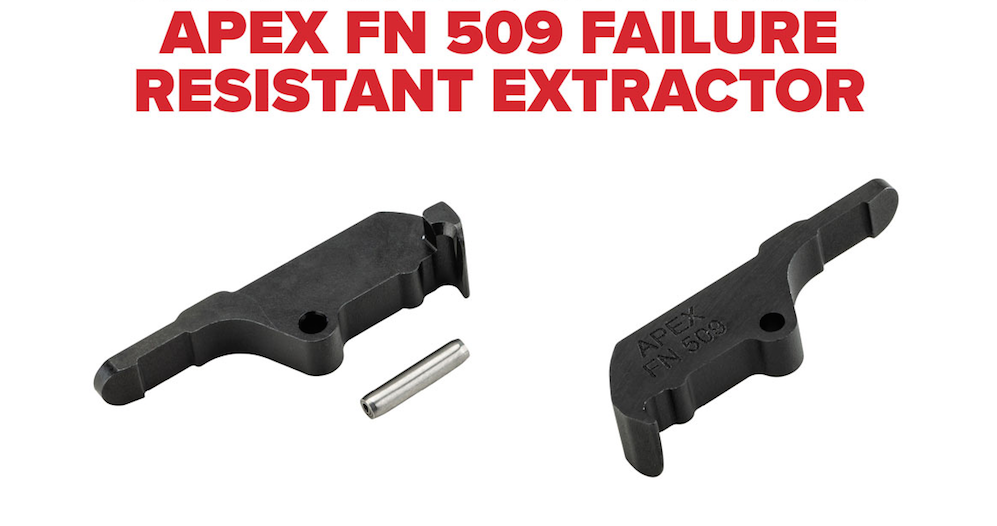 PEORIA, Ariz. – Apex Tactical Specialties is adding to its line of Failure Resistant Extractors with an extractor for FN 509 model pistols. The new Apex Failure Resistant Extractor is available for pre-order now and will officially begin shipping on April 30th.
Designed specifically for use in the FN 509 model pistols only, the Apex Failure Resistant Extractor replaces the factory MIM extractor and delivers consistent, reliable extraction. It is machined from a billet of heat-treated stainless steel and the critical engagement surface features Apex's custom extractor hook geometry, which is machined by wire EDM. The extractor is Black Nitride finished for enhanced durability.
The Apex Failure Resistant Extractor for the FN 509 can be pre-ordered at ApexTactical.com. This and other upgrade components for the FN 509, including Action Enhancement Kits and the FN 509/FNS-C Disassembly Fixture, are also available for order.
Retailers and wholesale distributors that have not yet ordered and wish to stock the new extractor can contact Apex at dealer@apextactical.com or (623) 322-0200 for pricing and quantity availability.
Features and Specifications:
– Replaces factory MIM extractor
– Features Apex's custom extractor hook geometry
– Provides consistent, reliable extraction
– Works with all current FN 509 model pistols
– Easy to install
– Apex Part #: 119-168
– MSRP: $45.95
For more information on parts from Apex Tactical Specialties, visit www.ApexTactical.com, like Apex Tactical on Facebook or follow @ApexTactical on Instagram or Twitter. Instructional videos on the installation of Apex parts are available on Apex's YouTube, Full30 and GunStreamer channels.