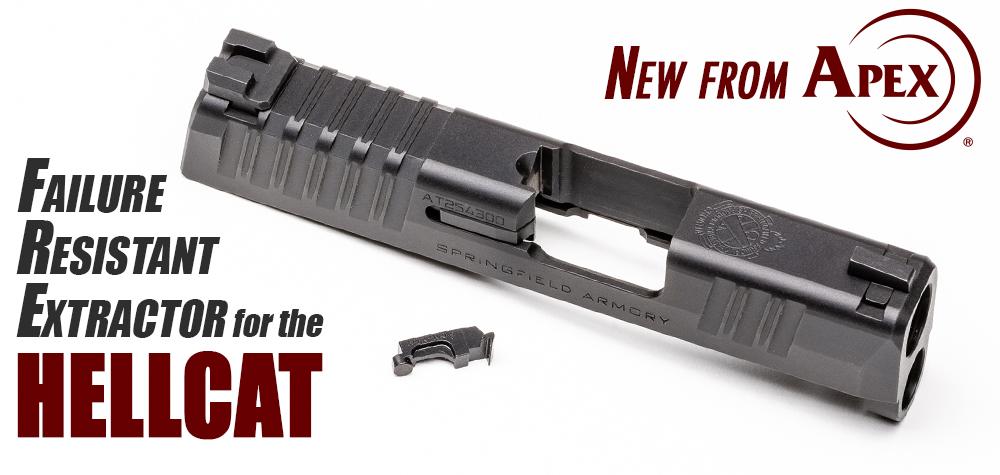 PEORIA, Ariz. – Adding to its line of Failure Resistant Extractors, Apex Tactical Specialties is pleased to announce the upcoming release of a Failure Resistant Extractor for the Hellcat model pistols from Springfield Armory.
Designed specifically for use in the Springfield Hellcat 9mm pistols, the Apex Failure Resistant Extractor replaces the factory extractor and delivers consistent, reliable extraction. It is machined from a billet of heat-treated stainless steel and the critical engagement surface features Apex's custom extractor hook geometry. The extractor is Black Melonite finished for enhanced durability.
The Apex Failure Resistant Extractor for the Hellcat will soon be available from ApexTactical.com, as well as through a number of dealers, online retailers and distributors. Apex already offers Failure Resistant Extractors for the Gen 3/5 Glocks, Gen 4 Glocks, FN 509, M&P and M&P M2.0 model pistols.
Retailers and wholesale distributors that have not yet ordered and wish to stock the new extractor can contact Apex at [email protected] or (623) 322-0200 for pricing and quantity availability.
Features and Specifications:
– Replaces factory extractor
– Features Apex's custom extractor hook geometry
– Provides consistent, reliable extraction
– Works with all current 9mm Hellcat model pistols
– Easy to install
– Apex Part #: 115-090
– MSRP: $59.95
For more information on parts from Apex Tactical Specialties, visit www.ApexTactical.com, like Apex Tactical on Facebook or follow @ApexTactical on Instagram or Twitter. Instructional videos on the installation of Apex parts are available on Apex's YouTube, Full30 and GunStreamer channels.