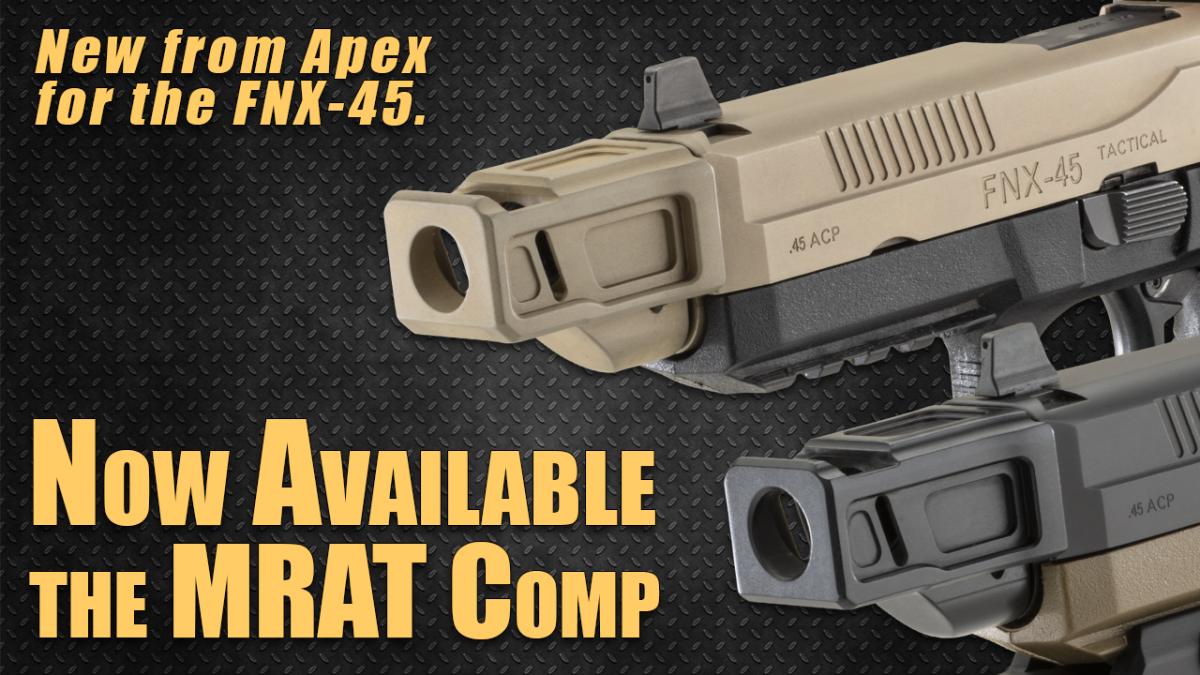 PEORIA, Ariz. – Apex Tactical Specialties is pleased to announce the release of the all new MRAT Compensator for the FNX-45 model pistols equipped with a factory threaded barrel.
The MRAT, or Muzzle Rise Amplitude Tamer, was designed to dramatically reduce both felt recoil and muzzle rise of the FNX-45 model pistols while shooting. The reduction is so significant in fact that Apex provides a captive-spring guide rod assembly to ensure proper function due to the reduced slide velocity produced by the MRAT.
The MRAT was tested with a variety of SAAMI spec ammunition; from the lightest 'target' rounds to +P duty rounds. The result was a 40% to 60% reduction in muzzle rise. These results may vary based on both the ammunition used and the individual shooter.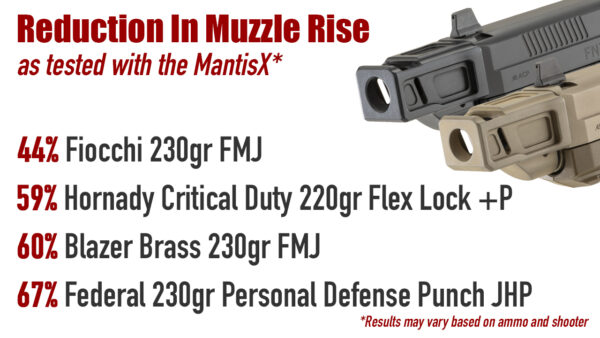 The kit contains the MRAT Compensator, a captive-spring guide rod assembly, two brass tip set screws and a 1.8ml vial of thread locker fluid. The installation is easy and Apex provides a detailed 'how to' video to properly guide customers through the process.
The MRAT comes in Black, which is in stock and available now, or FDE, which will be available in 6 to 8 weeks.
Retailers and wholesale distributors that have not yet ordered and wish to stock the MRAT Comp for the FNX-45 can contact Apex at [email protected] or (623) 322-0200 for pricing and quantity availability.
Features and Specifications:
– For FNX-45 pistols
– Reduces felt recoil
– Reduces muzzle rise
– Available in Black or FDE
– Easy To Install
– Apex Part #: 119-105-BLK, MSRP: $175
– Apex Part #: 119-105-FDE, MSRP: $200
For more information on parts from Apex Tactical Specialties, visit www.ApexTactical.com, like Apex Tactical on Facebook or follow @ApexTactical on Instagram or Twitter. Instructional videos on the installation of Apex parts are available on Apex's YouTube, Full30 and GunStreamer channels.