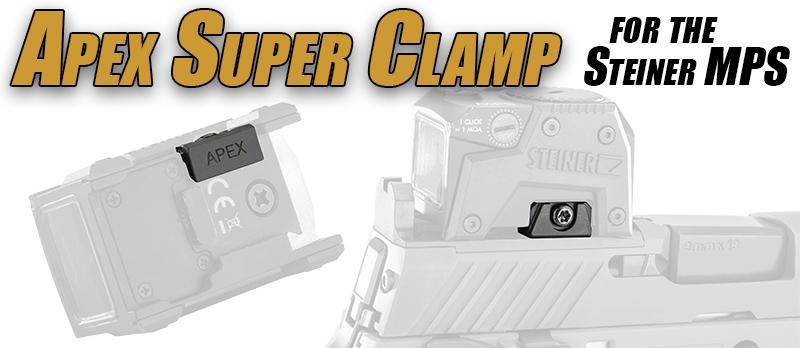 PEORIA, Ariz. – Apex Tactical Specialties is pleased to announce the new Apex Super Clamp for use with Steiner MPS optics. The new Super Clamp is available now for an MSRP of just $20.00.
The Apex Super Clamp replaces the original optic clamp included with the Steiner MPS. The Super Clamp has been engineered to increase the clamping surface area of your MPS optic to work on any dovetail mount manufactured within the ACRO mounting specs set by Aimpoint. The Super Clamp is machined from steel and Black Oxide finished.
The new Apex Super Clam is available now from ApexTactical.com. The new Super Clamp will also be available through a number of Apex's stocking dealers and distributors.
Retailers and wholesale distributors that have not yet ordered and wish to stock the new Super Clamp can contact Apex at [email protected] or (623) 322-0200 for pricing and quantity availability.
Features and Specifications:
– Designed specifically for use with the Steiner MPS
– Expands clamping range
– Secure MPS to all optic mounts within the tolerances for ACRO optics
– Easy to install
– Part# 104-131
– MSRP: $20.00
For more information on parts from Apex Tactical Specialties, visit www.ApexTactical.com, like Apex Tactical on Facebook or follow @ApexTactical on Instagram or Twitter. Instructional videos on the installation of Apex parts are available on Apex's YouTube, Full30 and GunStreamer channels.