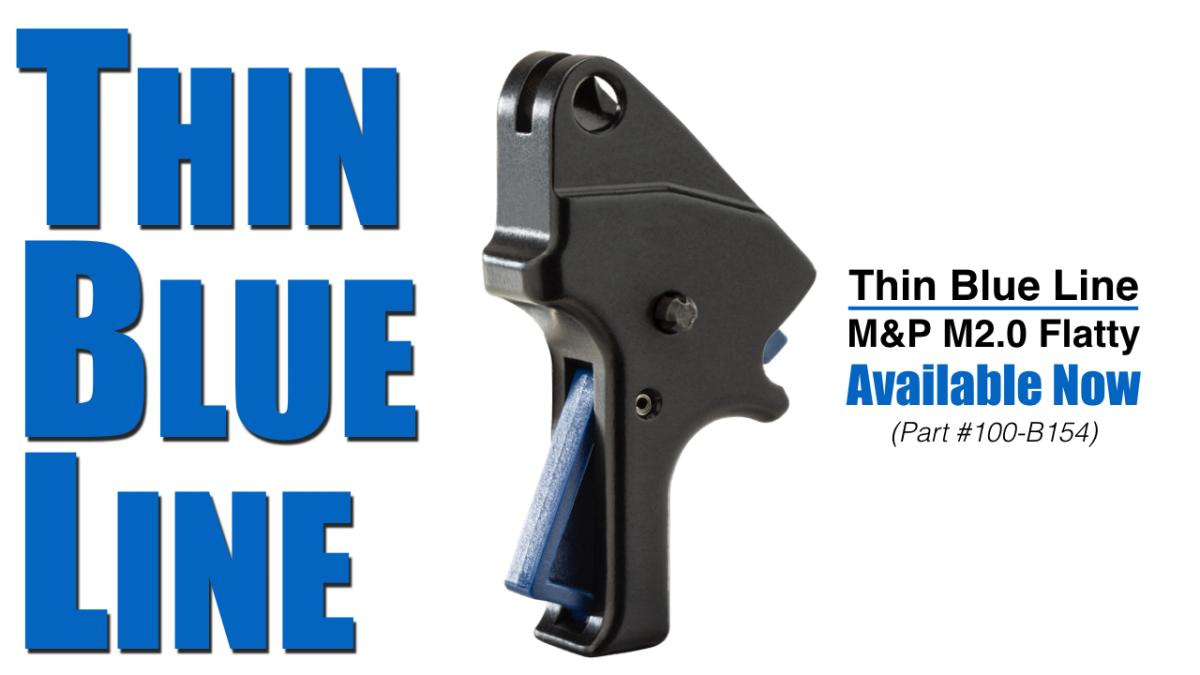 PEORIA, Ariz. – Apex Tactical Specialties has expanded its
Thin Blue Line Series
with the addition of a Thin Blue Line version of its wildly popular
Flat-Faced Forward Set Trigger Kit
for the M&P M2.0 model pistols from Smith & Wesson. Apex launched its Thin Blue Line Series of black trigger bodies accented with a blue center mounted pivoting safety in order to raise money for Concerns of Police Survivors (
C.O.P.S.
), a nationwide not-for-profit organization whose mission is to rebuild the shattered lives of the survivors who have lost a loved one in the line of duty. Apex donates 25% to C.O.P.S. from each Thin Blue Line Series product sold, and since launching the program in October of 2016 has raised over $175,000 for the organization. The Apex Thin Blue Line Flat-Faced Forward Set Trigger Kit, part #100-B154, is made specifically for use in the Smith & Wesson M&P M2.0 (9mm/.40S&W/.45ACP), including the M2.0 Compact models. The kit's patent pending design transforms the pistol delivering a smooth, crisp trigger pull with an approximate 40% reduction in overall trigger travel.
Features and Specifications:
– Reduces overall trigger travel by approximately 40% – Reduces trigger pull weight by up to 2 lbs. (approximately) – Delivers crisp trigger break – Smooths uptake and reset – Reduces trigger over-travel – Shortens reset length – Center mounted pivoting safety maintains factory safety values – Apex Part #:
100-B154
– MSRP: $169.95 For more information on products from Apex Tactical Specialties, visit
www.ApexTactical.com
, like
Apex Tactical on Facebook
or follow @ApexTactical on
Instagram
or
Twitter
. Instructional videos on the installation of Apex parts are available on Apex's
YouTube
,
Full30
and
GunStreamer
channels.
About C.O.P.S.
Concerns of Police Survivors is a nationwide not-for-profit organization with 55 Chapters across the country. Members of C.O.P.S. are always prepared to help survivors when they need it, where they need it. The organization's mission has always been to "rebuild shattered lives" of the survivors. C.O.P.S. has a membership comprised of more than 52,000 people nationwide who have identified themselves as survivors nationwide. Unfortunately, that membership continues to grow as an average of 140-160 law enforcement officers have died in the line of duty every year. For more information, please visit
www.concernsofpolicesurvivors.org
or contact us via Facebook at
www.facebook.com/nationalcops
.