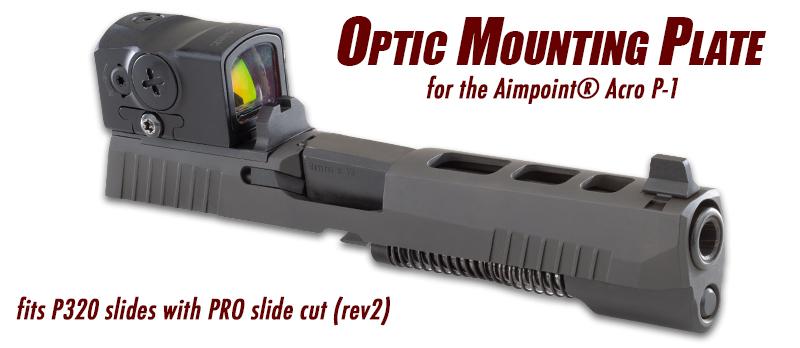 PEORIA, Ariz. – Apex Tactical Specialties is pleased to announce the introduction and immediate availability of optic mounting plates for Sig Sauer P320 pistols. Designed specifically to fit the P320 models such as the M17, M18 and Legion, the new Apex Optic Mounts allows the user to securely mount the Aimpoint® Acro P-1 optic to the slide.
Available now, the new Apex Optic Mount fits P320 slides with a PRO slide cut (rev2), which includes the P320 XFive Legion, P320-M17, P320-M18, P320 XFull, P320 XCarry, P320 XCompact, and P320 XVTAC. The mounting plate is machined from a billet of heat-treated steel and black Melonite finished for enhanced durability. The low profile design of the mounting plate ensures co-witnessing between the suppressor height sights and the Aimpoint® Acro P-1.
Apex offers three versions to choose from. The first (part# 112-009) is a mounting plate by itself, without an iron sight option. The second and third options feature an integrated rear sight, which sits forward of the optic and co-witnesses with the included front sight.
Two front sight height options are available, based on the barrel length of the pistol. Part# 112-009-RS-373 includes a front sight for pistols with a 4.7" or shorter barrel, such as for the M17 and M18. Part# 112-009-RS-357 is for use with 5.0" barreled pistols, like the P320 Legion.
Retailers and wholesale distributors that have not yet ordered and wish to stock the new mounting plates can contact Apex at [email protected] or (623) 322-0200 for pricing and quantity availability.
Features and Specifications:
– Specifically for use with P320 models with the Romeo1 Pro slide cut (rev2)
– Securely mount the Aimpoint® Acro P-1
– Easy to install
– Apex Part #: 112-109
– MSRP: $54.95
– Apex Part #: 112-009-RS-373 (for 4.7" or shorter barrels, such as the M17/M18 Series)
– Apex Part #: 112-009-RS-357 (for the 5.0" barrel lengths, such as the Legion)
– MSRP: $119.95
For more information on parts from Apex Tactical Specialties, visit www.ApexTactical.com, like Apex Tactical on Facebook or follow @ApexTactical on Instagram or Twitter. Instructional videos on the installation of Apex parts are available on Apex's YouTube, Full30 and GunStreamer channels.