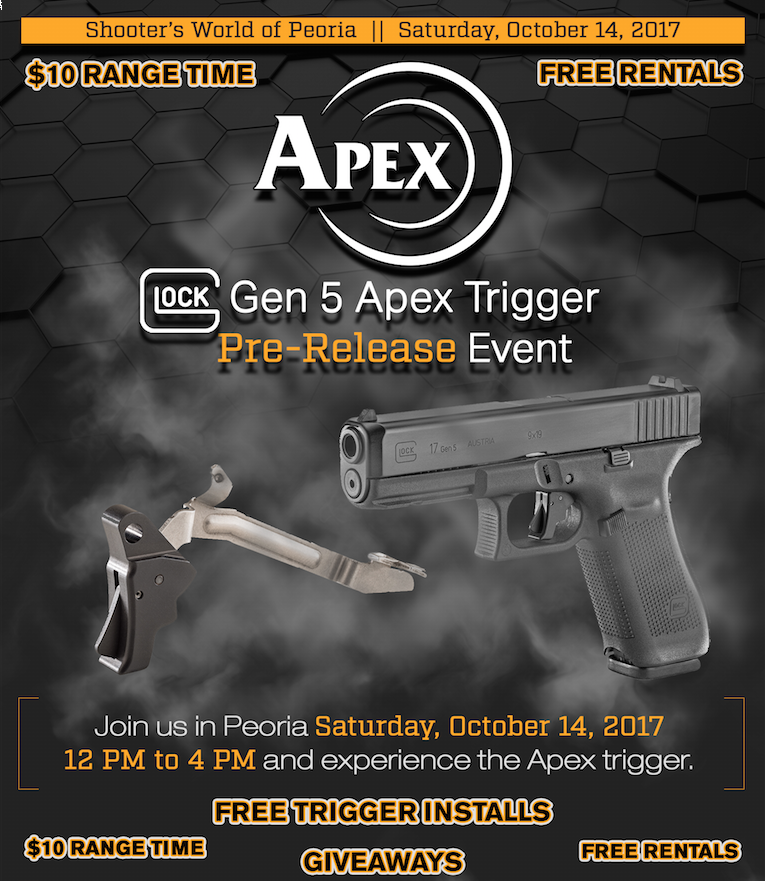 PEORIA, Ariz. – Apex Tactical Specialties will be holding a special range event this weekend to preview the new Action Enhancement Trigger for the Gen 5 Glock. The event is being hosted by Shooter's World of Peoria and will run from 12:00pm to 4:00pm this Saturday, October 14. During the event range pistol rentals are free and Apex will be giving away trigger kits every half hour.
For those in the west valley area of Phoenix, Shooter's World is located at 8966 W. Cactus Road in Peoria, Arizona. This event is open to the public and Apex staff will be on-hand to unveil the new Apex trigger for Gen 5 Glock pistols, giving attendees an opportunity to test-fire the pistol on the indoor ranges at Shooter's World.
Additionally, Apex will be showcasing other triggers on the range, including those for the M&P M2.0, M&P, Walther PPQ and M&P Shield. Ammunition for test-fire is just $6 per magazine (15 rounds) and $6 for two magazines for the Shield (14 rounds).
A wide assortment of Apex products will be available for purchase during the event, including Apex's new Gen 5 Glock triggers. Apex staff will provide free on-site installation of Apex trigger kits purchased during the event.
Apex will begin shipping the new Action Enhancement Trigger for the Gen 5 Glock on Monday, October 16, so don't miss out on your chance to test drive and purchase the new trigger before its official release.
For more information on the products and services available at Shooter's World of Peoria, visit www.azshootersworld.com.
For more information on Apex Tactical Specialties, visit www.ApexTactical.com, like Apex Tactical on Facebook or follow @ApexTactical on Instagram and Twitter. Instructional videos on the installation of Apex parts are available on Apex's YouTube channel.