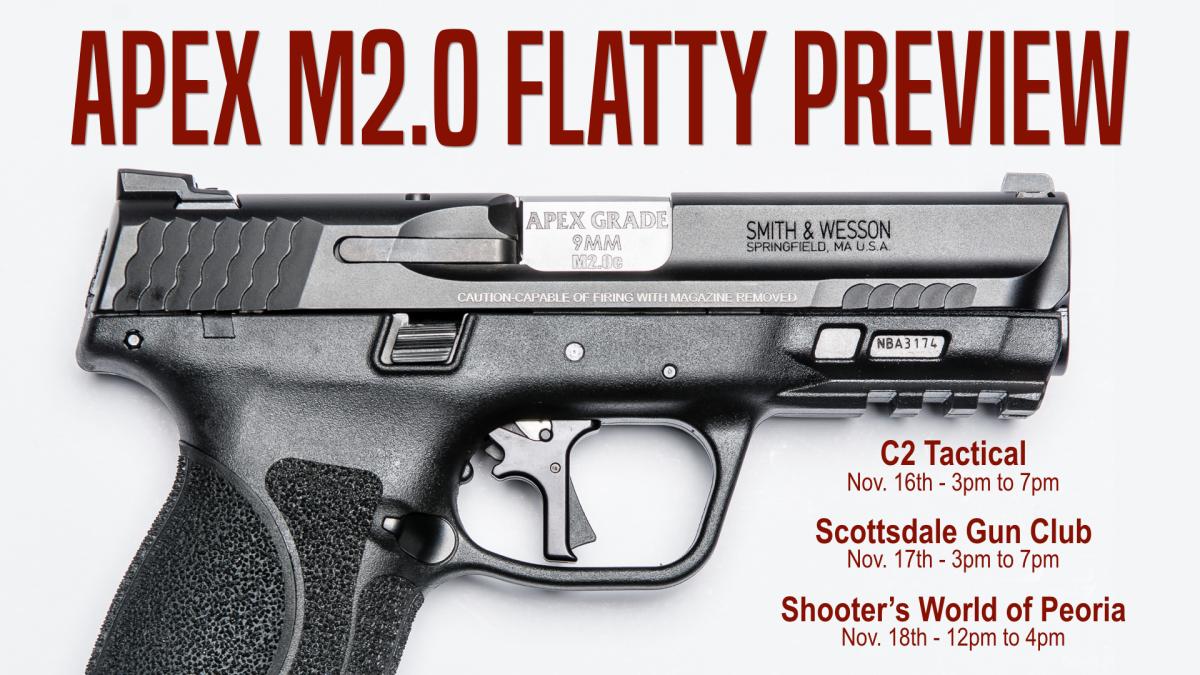 PEORIA, Ariz. –
Apex Tactical Specialties
will be holding three special local range events this week to preview the new Flat-Faced Forward Set Trigger Kit for the M&P M2.0. The Phoenix area events are being hosted by
C2 Tactical
in Tempe,
Scottsdale Gun Club
and
Shooter's World of Peoria
. The preview events are scheduled for:
Thursday, November 16 from 3:00pm to 7:00pm C2 Tactical – 8475 S Emerald Drive, Tempe, AZ
Friday, November 17 from 3:00pm to 7:00pm Scottsdale Gun Club – 14860 N Northsight Blvd, Scottsdale, AZ
Saturday, November 18 from 12:00pm to 4:00pm Shooter's World of Peoria – 8966 W. Cactus Road in Peoria, AZ
All three events are open to the public and Apex staff will be on-hand to unveil the new Apex trigger for M&P M2.0 pistols. Attendees can purchase the new Flat-Faced Forward Set Trigger Kit ahead of its November 20th release, and Apex staff will provide free on-site installation of Apex trigger kits purchased during the event. In addition to the new M&P M2.0 trigger kit, Apex will be showcasing other triggers, including those for the M&P, Walther PPQ, Glock and M&P Shield, which will also be available for purchase with free Apex installation available for those that would like it. Apex will begin shipping the new Flat-Faced Forward Set Trigger Kit for the M&P M2.0 on Monday, November 20, so don't miss out on your chance to purchase the new trigger kit before its official release. For more information on Apex Tactical Specialties, visit
www.ApexTactical.com
, like
Apex Tactical on Facebook
or follow @ApexTactical on
Instagram
and
Twitter
. Instructional videos on the installation of Apex parts are available on
Apex's YouTube channel
.