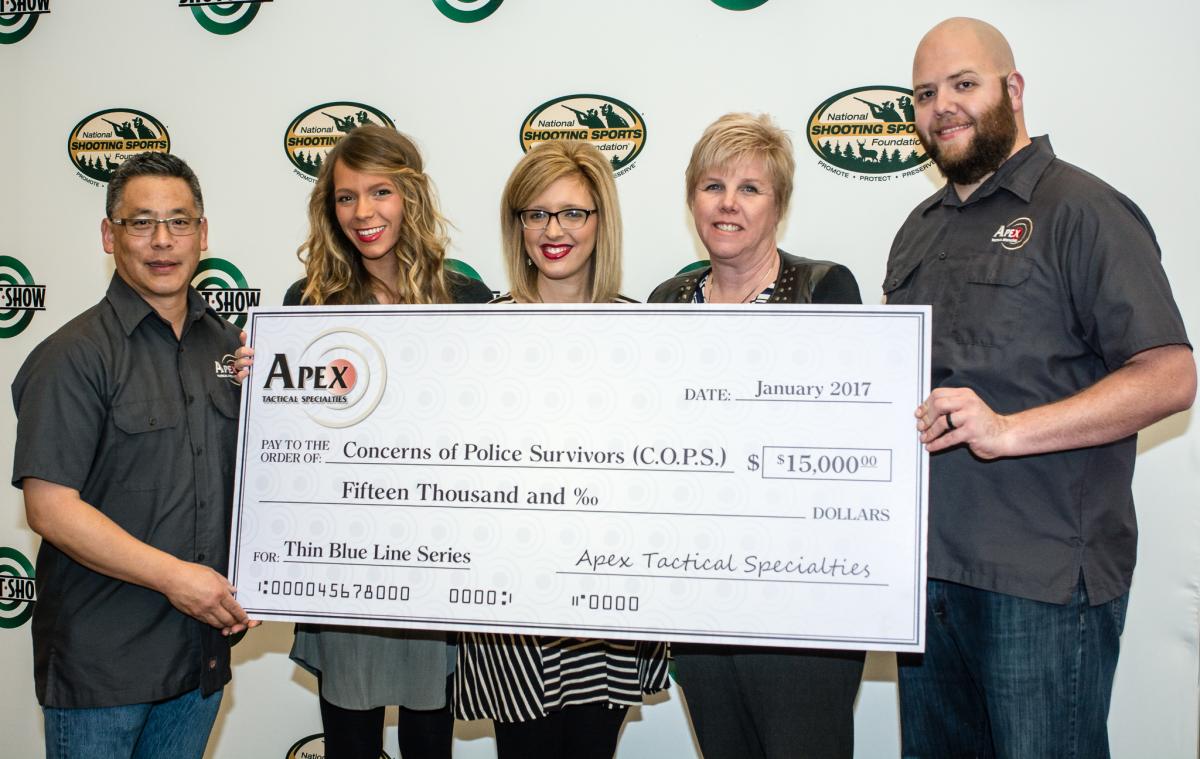 LAS VEGAS, Nev. – Randy Lee and Scott Folk, the owners of Apex Tactical Specialties, presented a check for $15,000 to Lauren Crisman, Spree Hilliard and Dianne Bernhard of Concerns of Police Survivors (C.O.P.S.), during the 2017 SHOT Show in Las Vegas. Apex raised the funds through the ongoing sale of their Thin Blue Line Series of triggers.
"On behalf of Apex Tactical Specialties, our staff, and, most importantly, our loyal customers, we are extremely proud to present this check for $15,000 to Concerns of Police Survivors. When we first introduced the Thin Blue Line Series we had no way of gauging exactly how much we'd raise in such a short time. In what always seems to be the case, Apex customers immediately stepped up to help us support this important organization. We hope today's donation is just the first of many," said Lee and Folk in a joint statement released by the company.
"Thank you Apex Tactical Specialties for supporting the families of fallen police officers. It is only through support such as yours that we are able to help families facing enormous loss. Thank you for being a company that generously supports law enforcement," said Dianne Bernhard, executive director of C.O.P.S.
C.O.P.S., a nationally recognized and highly respected law enforcement support organization, offers programs for survivors, including the National Police Survivors' Conference, which is held each May during National Police Week. C.O.P.S. also offers scholarships, peer-support at the national, state, and local levels; the "C.O.P.S. Kids" counseling reimbursement program; and the "C.O.P.S. Kids" Summer Camp, "C.O.P.S. Teens" offers an Outward Bound experience for young adults. C.O.P.S. also sponsors special retreats for spouses, parents, siblings, adult children, extended family, fiancés/significant others and co-workers. Trial and parole support, as well as other assistance programs, are also available.
Apex introduced the Thin Blue Line Series back on October 31, 2016, dedicating 25% from each sale to C.O.P.S. Since then the Thin Blue Line Series has proven to be very popular with Apex customers. The product line includes triggers for the Smith & Wesson M&P, the M&P Shield, and Glock model pistols. Based on the success of the initial introduction, Apex plans to expand the series with additional products.
For more information on the Thin Blue Line Series from Apex Tactical Specialties, visit www.ApexTactical.com, like Apex Tactical on Facebook or follow @ApexTactical on Instagram and Twitter.
About C.O.P.S.
Concerns of Police Survivors is a nationwide not-for-profit organization with 52 Chapters across the country. Members of C.O.P.S. are always prepared to help survivors when they need it, where they need it. The organization's mission has always been to "rebuild shattered lives" of the survivors. C.O.P.S. has a membership comprised of more than 37,000 people nationwide who have identified themselves as survivors nationwide. Unfortunately, that membership continues to grow as an average of 140-160 law enforcement officers have died in the line of duty every year.
For more information, please visit www.nationalcops.org or contact us via Facebook at www.facebook.com/nationalcops.