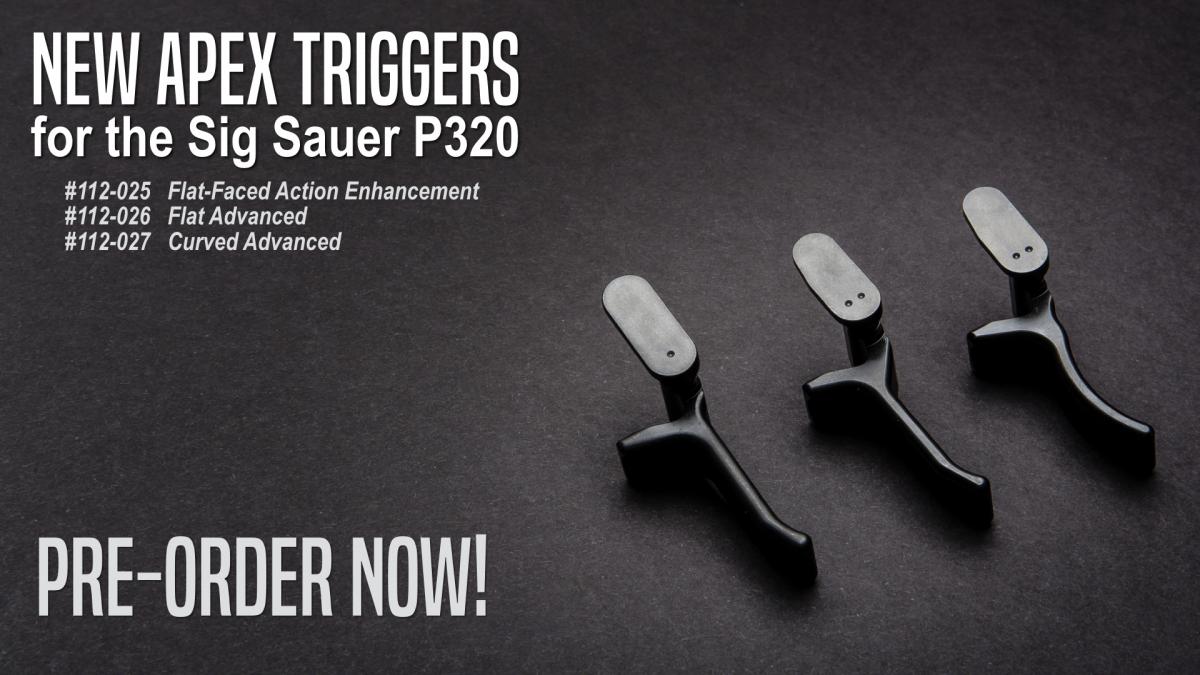 PEORIA, Ariz. – Apex Tactical Specialties announces the re-release of its popular triggers for the Sig Sauer P320 pistols. The new triggers are available for pre-order now and are specifically designed for use in the factory upgraded pistol models.
Following Sig Sauer's voluntary upgrade program for the P320, announced on August 8, 2017, Apex elected to suspend sale of its own triggers for the pistol until such time as the company could thoroughly test redesigned products with the latest Sig Sauer safety upgrades for the P320.
Apex is pleased to announce that, after extensive testing, new, lighter versions of all three Apex triggers are currently in production and will be officially released on Tuesday, December 26.
Dealer and distributor orders are shipping now, ahead of the December 26 release. Retailers and wholesale distributors that have not yet ordered and wish to stock the new triggers can contact Apex at dealer@apextactical.com or (623) 322-0200 for pricing and quantity availability.
Known for innovative work transforming striker-fired trigger systems, Apex has three trigger options specifically for the Sig Sauer factory upgraded P320 models. Each trigger is a direct replacement to the factory curved trigger and is easily installed without the need for tools or fixtures. All three triggers maintain the critical factory drop safety values.
The Apex Flat-Faced Action Enhancement Trigger, part #112-025, increases trigger reach to the natural resting position of the shooter's finger and allows the shooter to position their finger lower on the trigger face to take advantage of the increased leverage. The trigger is not designed to reduce the trigger pull weight.
Apex Flat Advanced Trigger, part #112-026, also increases trigger reach to the natural resting position, but is designed to reduce the factory trigger pull weight by approximately 2 lbs.
Both the Flat-Faced Action Enhancement Trigger and the Flat Advanced Trigger are available now for customer pre-order at ApexTactical.com.
Availability of the Curved Advanced Trigger, part #112-027, which mimics the factory contour and reduces the factory trigger pull weight by approximately 2 lbs., will be announced in a few weeks.
For more information on products from Apex Tactical Specialties, visit www.ApexTactical.com, like Apex Tactical on Facebook or follow @ApexTactical on Instagram and Twitter. Instructional videos on the installation of Apex parts are available on Apex's YouTube channel.