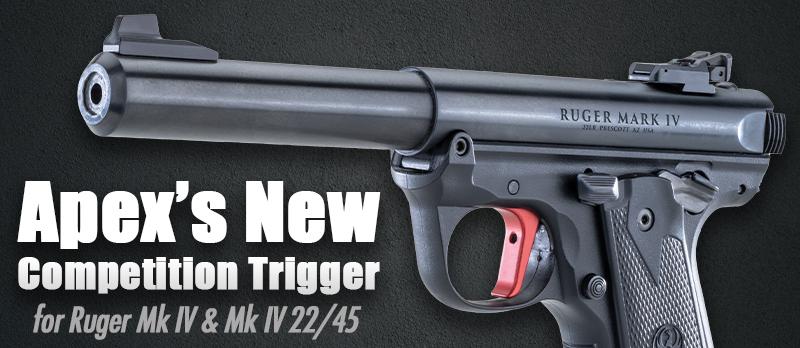 PEORIA, Ariz. – Apex is pleased to announce the release of its Competition Trigger Kit for the Mk IV and Mk IV 22/45 model pistols from Ruger. Available with either a black or red anodized flat-faced trigger, that is adjustable for over-travel, the new kit is a significant performance upgrade for one of the most popular .22LR handguns on the market.
Designed, tested and manufactured by Apex to provide an improved, more responsive trigger pull in the Ruger Mk IV pistols, the Competition Trigger Kit replaces the factory trigger, hammer and sear with Apex components. When installed the kit lightens the trigger pull weight to approximately 3.0 lbs., reduces over-travel by approximately 80% and overall trigger travel by 25%, resulting in a lighter, crisper trigger break that is ideal for both the competition and recreational shooter.
Included in each kit is a safety plate that maintains factory safety values, even when put through Apex's extensive drop-testing process which is conducted from six feet onto concrete. Also in each kit is a magazine safety delete, which when installed, allows the pistol to fire without the magazine inserted. Installing this component is optional, but Apex recommends it be used for competition purposes only.
Retailers and wholesale distributors that have not yet ordered and wish to stock the Competition Trigger Kit for the Ruger Mk IV model pistols can contact Apex at dealer@apextactical.com or (623) 322-0200 for pricing and quantity availability.
Features and Specifications:
– Reduces trigger pull to approx. 3.0 lbs
– Reduces trigger over-travel up to approx. 80%
– Reduces overall travel approx. 25%
– Delivers crisp trigger break
– Maintains factory safety values
– Easy To Install
– Apex Part #: 117-114 (Black), 117-154 (Red)
– MSRP: $160.00
For more information on parts from Apex Tactical Specialties, visit www.ApexTactical.com, like Apex Tactical on Facebook or follow @ApexTactical on Instagram or Twitter. Instructional videos on the installation of Apex parts are available on Apex's YouTube, Full30 and GunStreamer channels.