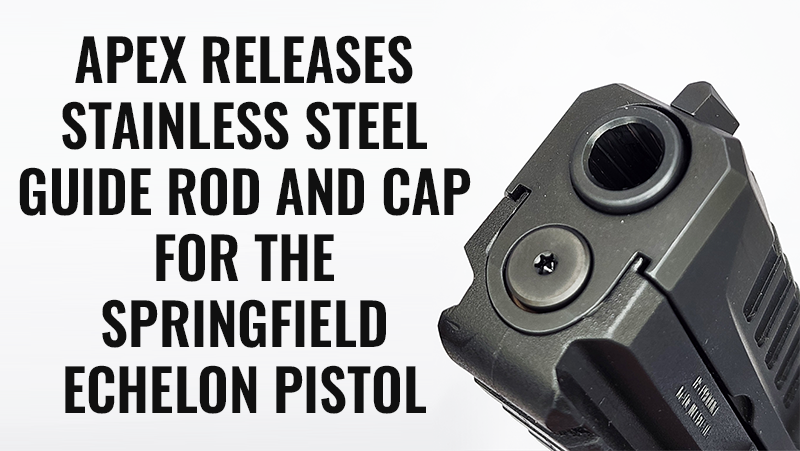 PEORIA, Ariz. – Apex Tactical Specialties is pleased to announce the release of two new guide rods for the Springfield Armory Echelon pistol. These Apex Guide Rods are available in heat-treated and polished stainless steel and ArmorLube finished black, and both include a Thread In Spring Cap to retain the factory recoil spring.
Available now at ApexTactical.com, these new guide rods are designed to reduce muzzle rise and aid in managing recoil by increasing the muzzle weight of the Echelon. Weighing in at 38 grams, the stainless steel and black guide rods are over seven times heavier than the factory version.
Shipping with each Guide Rod and Cap is an ingenious 3D printed Spring Compression Tool designed and manufactured by Apex that makes field stripping and maintenance much easier.
Following the Apex tradition of constant innovation, additional components for the Echelon are already in the works, including a single-sided, reversible magazine release that will be available soon.
Retailers and wholesale distributors that have not yet ordered and wish to stock Apex Guide Rods for the Echelon can contact Apex at [email protected] or (623) 322-0200 for pricing and quantity availability.
Features and Specifications:
Works in Springfield Armory Echelon pistols with a 4.5" barrel
Direct drop-in replacement of factory guide rod
Increases muzzle mass to help manage recoil
Weighs over seven times more than the factory guide rod (38 grams vs 5.4 grams)
Includes an Apex-built Thread In Spring Cap and 3D printed Spring Compression Tool
Apex part #:115-650-WHT/115-650-BLK
About Apex Tactical Specialties:
Apex Tactical Specialties is the leading manufacturer of drop-in aftermarket parts, designing and producing more aftermarket triggers and trigger kits for a broader range of pistol makes and models than any other company. With a proven track record of producing high-quality performance upgrades and unparalleled customer service, Apex has become the trusted name in the firearms industry for enthusiasts seeking top-tier products that deliver exceptional results.
For more information about Apex Tactical Specialties, visit ApexTactical.com, or follow @ApexTactical on Facebook, Instagram, or Twitter. Those seeking installation guidance can find helpful instructional videos on Apex's YouTube channel.