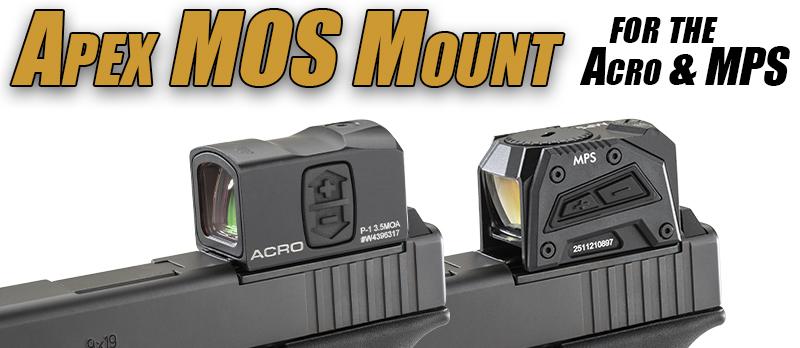 PEORIA, Ariz. – Apex Tactical Specialties is pleased to announce it is now shipping its latest optic mount designed specifically for securely mounting the Aimpoint Acro P-1 and P-2 or the Steiner MPS optic to Glock MOS model pistols.
The Apex Optic Mount is machined from a billet of steel and black oxide finished for enhanced durability, and will fit the following Glock pistols: G17 Gen4 MOS, G19 Gen4 MOS, G34 Gen4 MOS, G35 Gen4 MOS, G40 Gen4 MOS, G41 Gen4 MOS, G17 Gen 5 MOS, G19 Gen 5 MOS, G34 Gen5 MOS, and G45 MOS.
The Apex Optic Mount includes screws with pre-applied thread locker and has an MSRP of $60.00.
Apex also offers mounting plates for the FNX-45, FN 509, Sig Sauer P320 and Smith & Wesson revolvers as part of its growing list of handgun optic mounting solutions.
Retailers and wholesale distributors that have not yet ordered and wish to stock the new Optic Mount for the Glock MOS model pistols can contact Apex at [email protected] or (623) 322-0200 for pricing and quantity availability.
For more information on parts from Apex Tactical Specialties, visit www.ApexTactical.com, like Apex Tactical on Facebook or follow @ApexTactical on Instagram or Twitter. Instructional videos on the installation of Apex parts are available on Apex's YouTube, Full30 and GunStreamer channels.