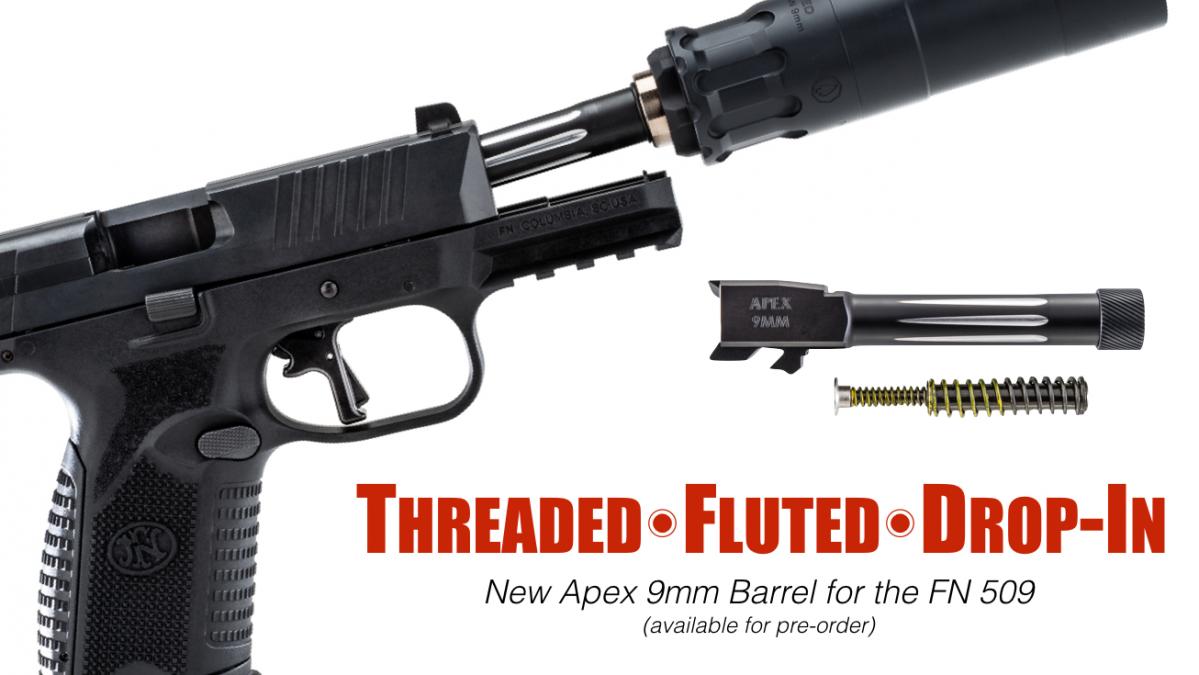 PEORIA, Ariz. – Apex Tactical Specialties is expanding its pistol barrel lineup with the addition of a new threaded barrel for the FN 509 model pistols. The new barrel is now available for pre-order and will officially begin shipping on April 30th.
Designed specifically for the FN 509 model pistols with a factory 4.00" barrel, the Apex 9mm Threaded Barrel is machined from heat treated stainless steel. Each barrel is then black Melonite finished before it's machined a second time to add contrasting stainless flutes.
The twist rate is 1:10" for improved accuracy performance and the thread pattern is 1/2-28. Each barrel comes with a thread protector and a light recoil spring assembly for use when shooting with a comp. As a direct drop-in, the barrel requires no fitting.
The Apex Threaded Barrel for the FN 509 can be pre-ordered at ApexTactical.com. Also available for purchase is Apex's full line of Action Enhancement Kits for the FN 509, FNS and FNS Compact model pistols.
Retailers and wholesale distributors that have not yet ordered and wish to stock the new barrel can contact Apex at dealer@apextactical.com or (623) 322-0200 for pricing and quantity availability.
Features and Specifications:
– For 9mm FN 509 Pistols
– Replaces 4.00" Factory Barrel
– Stainless Steel
– Black Melonite Finish with Contrasting Stainless Flutes
– 1:10" Twist Rate
– 1/2–28 Thread Pattern (thread protector included)
– Light Recoil Spring Assembly (included)
– No Fitting Required
– Apex Part #: 105-072
– MSRP: $219.95
For more information on parts from Apex Tactical Specialties, visit www.ApexTactical.com, like Apex Tactical on Facebook or follow @ApexTactical on Instagram or Twitter. Instructional videos on the installation of Apex parts are available on Apex's YouTube, Full30 and GunStreamer channels.