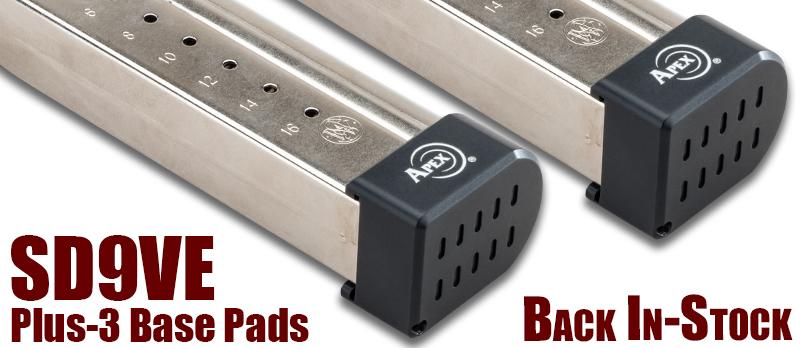 PEORIA, Ariz. – The Plus 3 Extended Base Pads from Apex Tactical Specialties are now back in stock and available at ApexTactical.com. Designed for the 9mm SD and SDVE model pistols from Smith & Wesson, the machined aluminum base pads add three (3) rounds to the existing standard capacity magazine.
Apex's extended base pads are caliber specific and available for either the 9mm or .40S&W SDVE pistols. They can also be used with standard capacity magazines for the Sigma series pistols, SWVE or Sigma "C", "F", and "VE".
Order now from the Apex online store and take advantage of the free shipping offer that's available through Sunday, July 5. The free shipping discount from Apex is automatic and no special coupon code is needed during online checkout.
For more information on parts from Apex Tactical Specialties, visit www.ApexTactical.com, like Apex Tactical on Facebook or follow @ApexTactical on Instagram or Twitter. Instructional videos on the installation of Apex parts are available on Apex's YouTube and Full30.