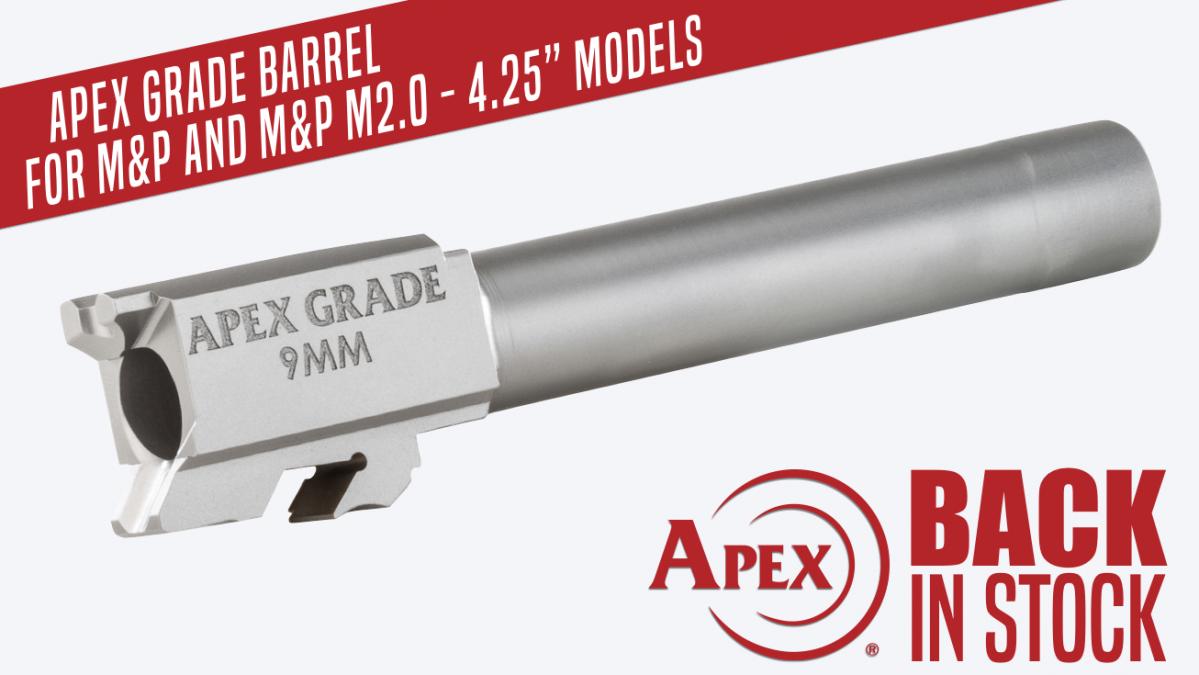 PEORIA, Ariz. – Apex Tactical Specialties announces that the popular Apex Grade 4.25" Semi Drop-In Barrel for the 9mm M&P and M&P M2.0, part #105-053, is now back in stock and shipping.
Designed by Apex CEO and founder Randy Lee, the Apex Grade Barrels for the M&P and M&P M2.0 utilize Apex's proprietary geometry to deliver unprecedented accuracy, regardless of bullet weight. The Semi Drop-In Barrel features a 1:10" twist rate and can be easily fitted by the end user. Once properly fitted the Apex Grade Barrel makes the M&P capable of shooting a one and a half inch or better five-shot grouping at 25 yards.
Final accuracy results after installation may vary based on the individual shooter's ability, ammunition selection and variations in factory firearm tolerances.
Visit ApexTactical.com and take advantage of free shipping, now through Monday, May 27, 2019, to order the Apex Grade 4.25" Semi Drop-In Barrel, as well as the recommended Apex Barrel Fitting Jig for proper fitting.
Features and Specifications:
– For 9mm M&P and M&P M2.0 Pistols Only
– 4.25" Length
– Stainless Steel
– 1:10" Twist Rate
– Recessed Target Crown
– Apex Part #: 105-053 (4.25" Semi Drop-In)
– MSRP: $174.95
For more information on parts from Apex Tactical Specialties, visit www.ApexTactical.com, like Apex Tactical on Facebook or follow @ApexTactical on Instagram or Twitter. Instructional videos on the installation of Apex parts are available on Apex's YouTube, Full30 and GunStreamer channels.