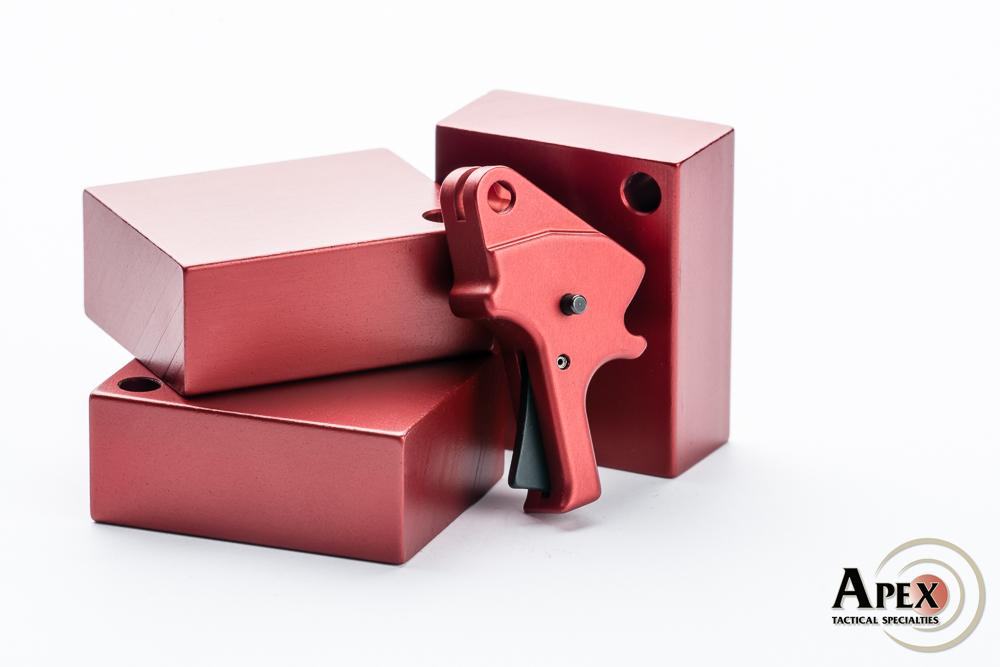 Apex is proud to introduce the all new Red Anodized Gunsmith Fit Universal Trigger, the one replacement trigger for all (or most) of your custom trigger needs.
What It Does
An industry first, the Apex Gunsmith Fit Universal Trigger is designed to provide what no other trigger does, and that's offer the end user maximum versatility in a custom replacement trigger. Whether you're working on a Beretta, Colt, Glock, Sig, Smith & Wesson, Springfield, Ruger or Taurus, the Apex Gunsmith Fit Universal Trigger directly replaces the factory trigger with a bright red type 2 anodized solid aluminum trigger body. Requires extensive gunsmithing depending on model trigger and performance features desired.
Expected Results
– Reduces trigger pull by approximately as much as you'd like it to
– Smooth uptake and reset, assuming you do it right
– Reduces pre-travel, over-travel and reset (same assumption as above)
Applicable To What Gun(s)
Works with nearly all pistols, in any caliber, with factory interchangeable triggers.
Does NOT work in Bryco, Hi-Point, Jennings, Lorcin, Raven, Star or similar handguns (because, well, Apex).
Features & Specifications
– It's a pretty shade of Red
– Block expertly tumbled prior to anodizing to provide that smooth-to-the-touch feel
– Requires extensive machining, so grab that Dremel Tool and have at it
In The Package
1 ea. Red Anodized Gunsmith Fit Universal Trigger (in block form)
(That trigger in the photo? Yeah, that's not included but good try.)

Installation Resources
There are none. So, good luck with that.
DISCLAIMER
Hello, McFly, this is not an actual trigger and will not work. However, it is actually available for purchase at ApexTactical.com for just $9.95.