With the release of the new FN 509 LS EDGE comes the obvious question, 'which Apex parts fit the new pistol?' The good news is that the pistol is still a 509 so all our 509 specific parts work in the new gun. In no particular order, those upgrades are:
Apex Heavy Duty Striker – While FN updated the striker design to what they call a "new, conical striker [that] reduces 509 trigger pull weight by 1.5-lbs." many of you will want to upgrade to the Apex Heavy Duty Striker. When measured on our digital trigger scan – the most accurate way to properly measure and map the trigger pull – we found the stock pull came in at 7.1 lbs., almost a full pound heavier than the 6.2 lbs. when the Apex striker and trigger kit were installed. Also, the Apex striker is fully machined from steel, thus the name 'Heavy Duty Striker.'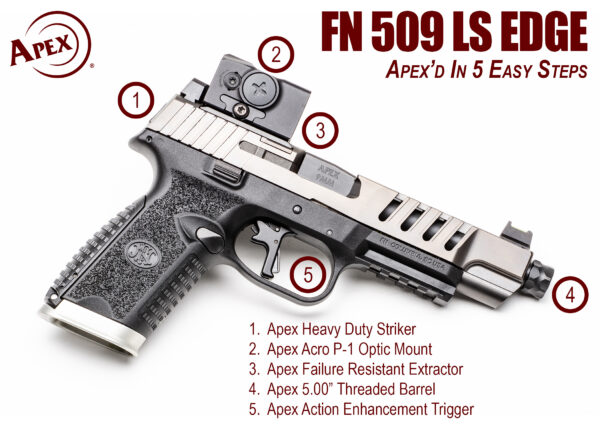 Apex Acro P-1 Optic Mount – If you are going to run an Aimpoint Acro atop your slide you'll need an our mounting plate designed for use with the FN Low Profile Optics Mounting System™ of the FN 509.
Apex Failure Resistant Extractor – Just like our extractors for M&P and Glock pistols, our Failure Resistant Extractor for the FN 509 is machined from steel and the critical engagement surface features Apex's custom extractor hook geometry that is machined by wire EDM.
Apex 5.00" Threaded Barrel – The 5.00" Threaded Barrel we designed for use in our own fully assembled and ready to shoot 5.00" LongSlide for the FN 509 works perfectly in the new FN 509 LS EDGE. These will hopefully be available for sale in the near future.
Apex Action Enhancement Trigger – Yeah, we know Flat-Faced triggers pretty well, which is why when FN invited companies to design an aftermarket trigger around the time of the introduction of the FN 509 Apex was, and still is, the only company to offer an aftermarket trigger upgrade for the 509 series of pistols. As mentioned above, installing the Apex trigger kit along with the Apex striker will reduce the stock trigger pull of the new FN 509 LS EDGE by approximately one pound.
All in all, the new FN 509 LS EDGE is a well designed, well built and welcomed addition to the FN 509 line of pistols. Of course, being a factory gun there's still room for improvement...and that's where Apex comes in.