Below are step-by-step instructions for installing the Apex Flat-Faced Forward Set Trigger w/ Apex Tuned Trigger Bar in the Walther PPQ. If after reading these instructions you still have questions, please contact Apex Customer Service at (805) 528-5250.
---
WARNING!
Always wear safety glasses when working on firearms. We recommend this product be installed by a competent gunsmith. Modification of your firearm may nullify the warranty of the firearm manufacturer.
---
Recommended Tools
3/32" Punch
3/32" Roll Pin Punch
Small Gunsmithing Hammer
Apex Armorer's Block (not required but helpful)
Installation Procedure
Remove magazine and make sure firearm is in a safe condition
Pull back on slide ¼ inch, deactivate takedown catch, and remove slide
Pry the takedown catch cover away from the frame and remove it from the gun
Take the takedown catch, pin, and spring out of the locking block
Use a 3/32" punch to drive the slide stop lever out of the gun
Use a 3/32" roll pin punch to remove both coil roll pins from the frame
Lift the locking block out of the frame and set aside
Lift the trigger and sear housing block out of the frame
Disconnect trigger bar from sear housing block
Connect the Apex Forward Set Trigger unit to the sear housing block, and replace the sear housing block and trigger into the frame
Replace the locking block, and use a 3/32" roll pin punch to reinstall the forward and aft roll pins (Note: The two pins differ in length with the forward pin being longer)
Replace the takedown catch mechanism by inserting the catch, spring and pin, then reinstall the takedown cover
Replace the slide stop lever by sliding it into the frame and making sure the spring is in the correct position, place the right hand side on and then tap the two halves together (Note: We suggest using the wooden handle of the hammer so you don't mark the finish)
Once all pieces are in place reinstall the slide and check for function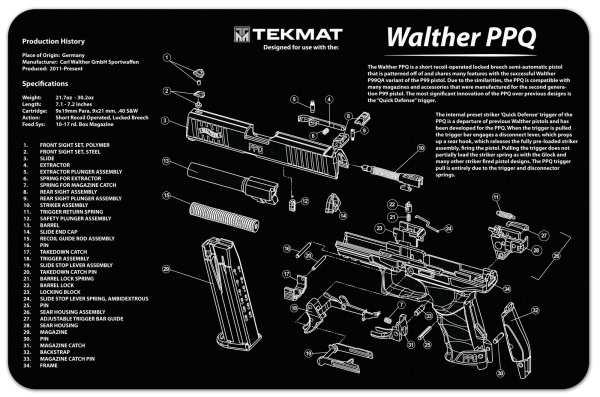 Handgun mats for the PPQ are available from TekMat (click here to order).