From the desks of Scott Folk and Claire Wimmer

Greetings, We hope you're enjoying your summer so far. We here at APEX are busy working away getting some very cool stuff together for summer and fall. We know you've been chomping at the bit for all of our new goodies, even though there's still some waiting ahead we promise, it's worth it. Scott and I are jointly writing our newsletters, so look for the author listed with the title. Claire
Curve RAM - Claire
We're currently working on our long awaited projects such as our Curve Ram (formally known as the Universal RAM) which will be compatible with the Thumb Safety, .45 cal. M&Ps as well as M&P's with the I.L.S. We're working on vigorous testing of the Curve RAM to test it's long term durability. We don't have a release date for the RAM yet, but we can assure you that it's one of our top priorities at the moment. However once we have put it through it's paces, we'll be announcing it's public release. I can tell you however the reset is more prominent and distinct than our Current RAM and well worth the wait. We will release info as it comes like ususal so keep an eye out for this cool little device.
Armorers Block - Scott
At the 2011 NRA show in Pittsburgh, PA we passively showed off our prototype aluminum M&P Armorer's Block. I say passively, because Lisa and I put it in the display case amongst other products without saying anything. We started using the prototype blocks in our M&P product installation videos and were hit by dozens of emails and phone calls asking where to get them. I have to say that I never expected there to be that much demand for an armorer's block, but I'm glad to see it. After playing around with a few ideas, we've come up with an entirely different block that will do more than just the M&P. We've set up our Armorer's Block to work with all M&P's, SD's, most Glocks and FN pistols. I'm sure there are more to list, but for lack of owning enough guns to check further that's as far as the list goes. The block does more than just allow you to punch the pins straight out, the new block assists with striker spring installation and trigger bar installation into our aluminum triggers. We expect to have the first batches of Armorer's Blocks available for sale in the fall of this year.
Here's a sneak peek at the prototype for the Armorers Block.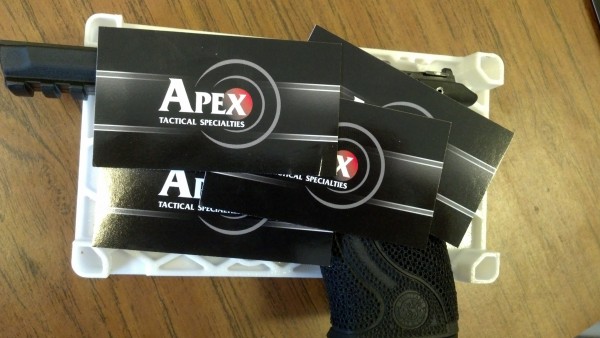 Polymer Forward Set and AEK Triggers- Claire
Our recently announced M&P Polymer Triggers are currently in process at the plastic shop. The prototype triggers looked and functioned exactly as we expected so the design has been approved for production. We're aiming to release these new triggers in late summer to early fall. These trigger will be available in for the AEK and Fordward set kits. The principal benefit of having a Polymer AEK or Forward set SS trigger is the cost savings to our customers. Polymer is also ideal for producing more intricate shapes and great for ergonomics.
Glock Extractors- Scott
We received a batch of sample Glock Extractors from the machine shop a couple of weeks ago and have been putting them through their paces. Our Beta testers have been shooting their Glocks for the past few weeks and reporting back with promising results. We have some manufacturing hurtles to get over before we can release them to the public, but should have those items worked out shortly. We still don't have a set release date for the Glock Extractor, but they are very near the front of the line. We're striving to produce a product that works right out of the box, so pelase bare with us while we work it out.
Gunsmith Fit Sear- Claire
Recently on Facebook, Randy mentioned that old friendships and new ones are turning into some exciting collaborations that are starting to produce some cool new innovative parts. These new parts aren't only for the M&P, but other platforms as well as completely different guns than you've seen us work with before.
(Sorry, can't spill those beans yet, but what we an tell you is that some of these items should be released by the first of June.)
Shield Kit Pending Release- Scott
We've been hinting at a new drop in kit specifically for the new M&P Shield since the guns release in April and now it's about time to deliver. We've gotten in the final components and are working on assembling Shield kits now. They're going to be called the Shield Carry Kit (SCK). They'll set the trigger pull to the mid 5lb range, smooth up the over all feel of the trigger and shorten reset, everything you need in a reliable slim line carry pistol. We have the release of the SCK set for Thursday July 12th. The SCK will be available to our network of dealers and distributors for the release day.
Bar-Sto Barrels - Claire
The Apex / Bar-STo barrels are in the testing phases for the moment. We've settled on a final design and are working to proof them before they're approved for production. We do not currently have anything else to release on them at this time.
This is a shot of Randy burning rounds out of one of our new barrels.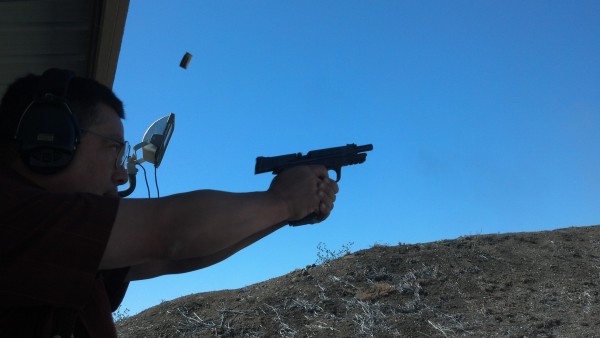 Sigma Kit - Scott
Due to the popularity of the S&W Sigma pistol, we've been working on a drop in Spring kit for the Sigma to reduce trigger pull weight and smooth out the action. The test guns have been shooting well and the kits have been performing admirably. We have the final springs in process with our spring manufacturer now and expect to see them within a few weeks. Once we have all of the components available, will announce the release of the Sigma Spring Kit. With the installation of the Sigma Spring Kit, you can expect a 2lb or greater drop in over all trigger pull weight across the board. We should have them ready for release within the next month or so. You can expect the price to be under the $30 mark.
M&P 22 Conversion - Claire
The .22 Conversion is in the works but do not expect to see anything on it for quite a time a while. We're still in the infant stages of theory and design. We most likely won't have any information to release on it or any other details until the start of 2013. So sit tight and allow us to work our magic for your benefit.
We've Moved - Scott
After 12 years in a 550 sq/ft office in Baywood Park Apex has moved. We've completed the upgrades to our new building, moved the inventory, machines and benches, now it's time to get everything setup and back to work. It's been a difficult few months working with our office and shop so far apart, but through a lot of hard work on everybodys part we can finally say that Apex is officially whole again. The next couple of weeks will be spent organizing the shop, setting up the R&D lab, establishing new work flow policies and getting life back to normal....well as normal as things can be around a here. We will begin taking in guns again within a couple of weeks, you can expect an announcement on our Facebook, Blog and newsletter soon.