Apex Square Shooter AR-15 Compensator
The latest release from Apex is dressed to impress and ready for action!  The one of a kind Square Shooter AR-15 Compensator features a square body and is made from ordnance grade steel and Melonite finished for durability and longevity.   The steel structure emphasizes three interior chambers within the baffles, and inline gas port designed to utilize propelling gases in order to reduce recoil. For proper function, always make sure the inline gas port is in an upward facing position. This new design will reduce muzzle rise significantly. This allows for the sights to be realigned quickly for faster follow up shots. It will also eliminate negative recoil impulse/downward dip.  The quality and impressive new design will assist the user with staying on target, while giving them more uniform grouping on the range.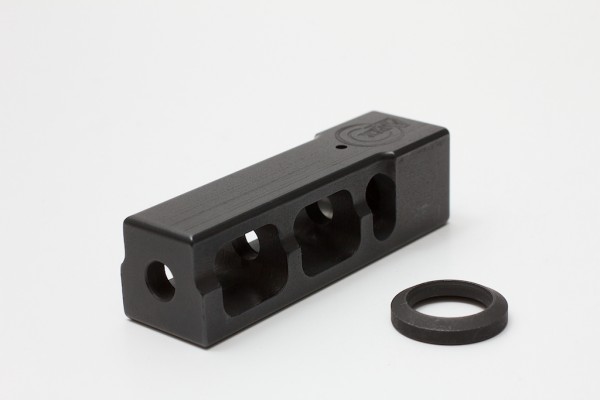 The Apex Square Shooter will enable you to feel more in control of your firearm because of the reduced recoil.  Not to mention, your new found accuracy is sure to impress.  The durability, accuracy, and intense power provided by the use of the Apex Square Shooter AR-15 Compensator, is unmatched. The Apex Square Shooter will not only make your AR-15 appear unique, it will leave you and those around you, speechless.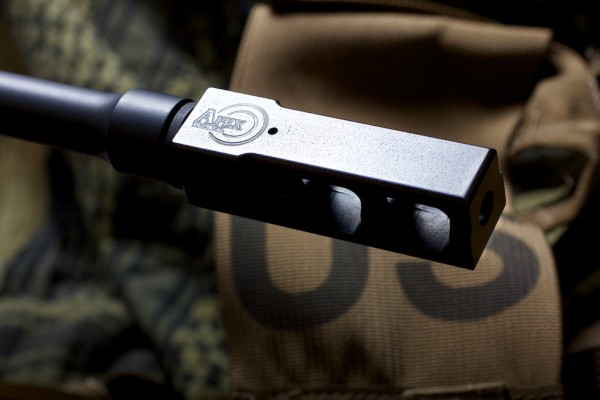 This one of a kind compensator attaches to the threaded muzzle of a .223 or 5.56 caliber rifle (1/2-28 TPI). Please research muzzle break removal before making any modifications to your rifle, i.e. blind pin removal and legality of barrel lengths.
The Apex Square shooter will include a crush washer for proper fitting.  Get more bang for your buck at the unbelievable low price of $79.95!  The Square Shooter is now available to our nationwide network of dealers and will go live on Brownells.com* shortly.
The round version of the Apex Square Compensator will be available for purchase soon!
*Brownells.com part reference number: 100-012-253
Another post detailing product updates is in the works now and will be posted very soon.