A few months ago we were invited to setup a vendor table at the California Combat Match at Camp Roberts near San Miguel, CA. We graciously accepted the invitation and signed up to show our wares to the fine men and women of our military.
The match is setup for military only, so we weren't permitted to shoot, but we got to hang out and talk to all of the participants and showoff our products. Everybody that picked up Lisa's 627 was absolutely amazed at her sub 5lb trigger pull, the looks on their faces was absolutely priceless the second the hammer fell for the first time. We had 5 of our M&Ps on hand to show them the different trigger package options we have available. We would start them out with a bone stock, factory M&P 9, move on to the DCAEK, then the Mass. AEK, then the Competition AEK and finally the Comp. AEK with the RAM installed. Everybody commented on the differences between the triggers and always handed the gun to their buddy saying "You gotta check this out". A Major General (2 Star) shot the match and stopped by the table to check out what we had, his reaction to Lisa's revolver was the best, his jaw dropped and he was momentarily speechless.
We had the table setup outside the vendor tent at the start, but moved inside as the temperature started to rise. The "Will Work For Ammo" banner was on the tailgate of Lisa's truck to start with, but once we went inside, we wanted to keep it visible, so we attached it over the entrance to the tent...it worked out very well that way.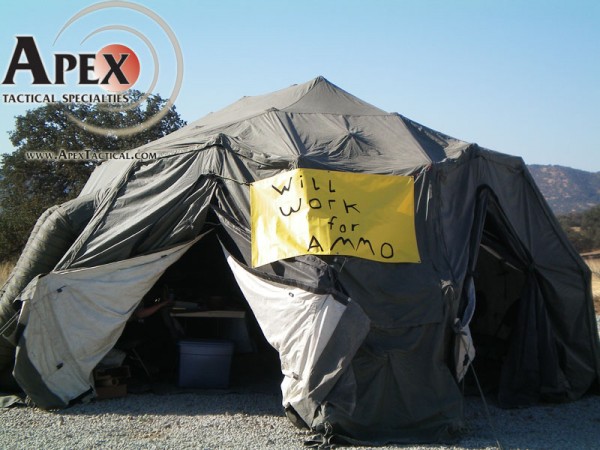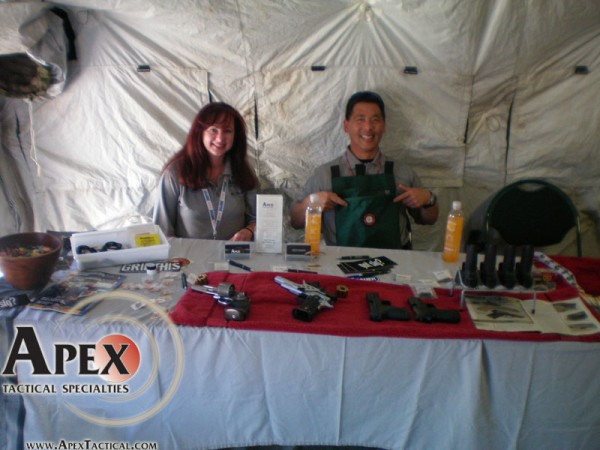 We'd like to thank Sgt. Hall and Sgt. Tresky for their hospitality and assistance in setting us up at the match. We're all looking forward to returning next year and sharing more of our products and giving away more swag.
Scott