While I was at the NRA Show in Pittsburgh this past April, I had a friend show me a backpack that he knew I would love. I'm referring to the Second Amendment Rangepack from 1776 Tactical. After looking at one of the bags available at the NRA Store, I got online and ordered one right away.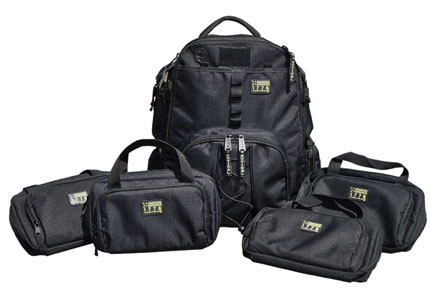 I shot the USPSA Area 1 match last weekend and put the 1776 Tactical Bag through its paces. I had a few other shooters comment on my choice of range bags and ask where to find one. Everybody who looked at my bag had the same impression....Quality is the number one attribute. Here's what I thought about my 1776 Tactical Second Amendment Rangepack.
Removable Pistol Bags
When the box arrived, I found my new backpack ready for all my gear. Being that I have 3 primary guns I use for everything shooting related, I proceeded to load the appropriate equipment into three of the included removable pistol bags. The removable pistol bags have a large compartment for your pistol and an outer compartment with 4 elastic loops for the magazines. I found that I can pack up to 9 magazines in each pistol bag with my M&P 9L, 1 in the gun, 6 in the side pouch and 2 under the muzzle in the main compartment. The removable bags are great, I can pick and choose what guns I want to take with me and not worry if I packed enough magazines to support the gun.
Inner Space
The greatest problem with most range bags is inner space, as a shooter I want to carry enough gear to get the job done, but not so much that I'm lugging extra stuff all over the range. This bag has enough space for all of my gear so that I never leave anything behind but is compact enough that I don't have to worry about it taking up too much space. Inside the main compartment, you'll find Velcro on the back and front walls to attach the removable pistol bags and a nice solid divider attached to the bottom of the bag to divide the main compartment into 2 separate spaces, great for organizational purposes I might add.
The main compartment divider has enough little pockets to accommodate a boat load of pens and miscellaneous tools. I've got my M2 Ball Point Pen, tons of Pin Punches, an SPD Pocket Tool and my Shooboy Gunsmith Hammer. The divider has enough elastic loops to hold tons more magazines than I could ever imagine using and a little pocket for my business cards and USPSA, IDPA, ICORE and SCSA membership cards.
Ammunition
I load my own ammo on a Dillon 650 so my ammo is never neatly packed into little boxes like factory ammo. I've been using a Dillon Border Shift Ammo Bag for the past year and found that I like it quite a lot. When I got my 1776 bag I found out something surprising, if I remove the pistol rug from the bottom of the back compartment I can drop my Dillon ammo bag into that space perfectly. All I have to do is unzip the back compartment and I can reach down to grab handfuls of ammo as I need it. I found that location to be ideal because it gives the bag a good low center of balance that makes it stand up easier as well as keeps the load close to my center of mass so carrying the bag is extremely easy even when I load it down with ammo.
On the outside
In high school, I had to lug around a back pack with 40+ pounds of books on a daily basis and that just plain hurts. The straps had minimal padding and they tended to dig into my shoulders. The 1776 Tactical pack doesn't have the problem, the straps are very wide and well padded, and the back is well padded and extremely comfortable to wear even with lots of weight for long periods of time. The top of the bag has a couple of pouches for AR-15 type magazines that are perfect for stowing empty pistol mags and other quick access items. The smallest front pouch has the Second Amendment printed directly to the fabric on the inside and is a great size to hold all your match paper work and score sheets. There's also a separate Molle attachable pouch on the front for your Smart Phone to reside in while you're shooting and a little one at the top inside the front pouch for your MP3 Player. I used the MP3 player for my CED 7000 shot timer.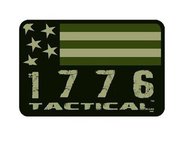 Overall impressions
I'm in love! This bag is simply awesome. I can't thank Nathan enough for putting so much thought and work into his product. I couldn't have designed a better bag with years of time on my hands. This bag gets my approval and endorsement 100%
I should also mention that 1776 Tactical is giving away a bunch of free stuff, so get to their page and get signed up fast.
Scott