As many of you already know Apex is a sponsor of the 2013 S&W IDPA Indoor Nationals and I thought it would be a good idea to shoot the match since we're sponsoring it.
Having had enough trouble in the past with TSA over traveling with guns and ammo, I thought it would be best to ship my gear to myself as I've done a number of times now.  So on Monday, we packed up my gun, gear and parts I wanted to take along and shipped everything via Fedex Overnight.  Now, I flew out on Tuesday morning which is the same day my gear would arrive.
.
When I checked in at the hotel, I asked about my package and was told that it had not arrived.  The moment I got into my room I opened up the laptop, went through about 500 verification screens to get my "Complimentary High Speed Internet Access" and went straight to Fedex to track my package.  There was no exception listed for it not being delivered, just that it was at the Destination Sort Facility.  Knowing that it would be pointless to have them hold it at some Fedex Location in a city I've never heard of, I decided to just go ahead and wait for it to be delivered to the hotel, where I could get it easily.
.
This morning I up with my squad and told them the bad news, they were extremely supportive and told me that when I heard it was in, I should drop what I was doing and head to the hotel.  So thanks to Fedex, I spent the day keeping scroe for my squad; feeling like that kid who brings a backetball to the court, but doesn't get to play because he's too fat and there are already 2 teams of 5..........but I wouldn't know what that feels like.....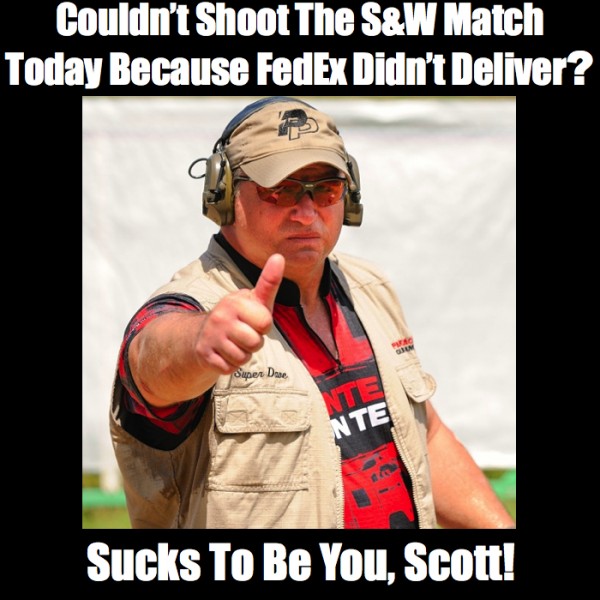 So I get to shoot with a few friends from Sacramento that I haven't been able to shoot with in quite some time.  Should be fun.
Scott