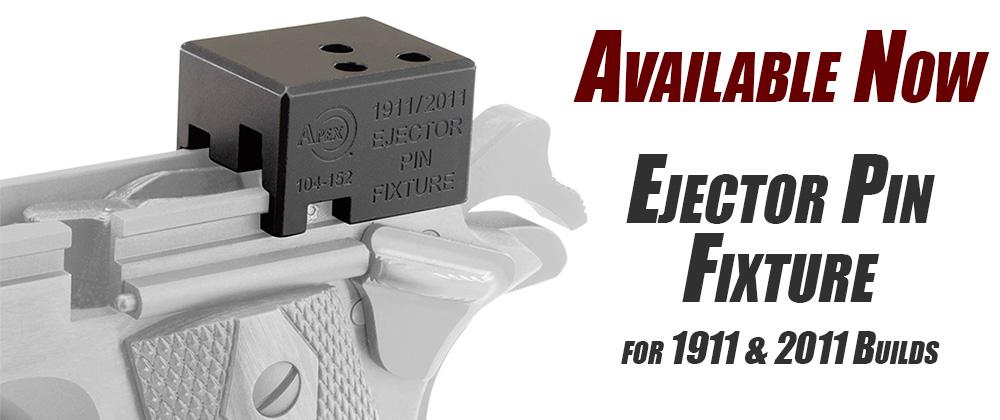 Working on your 1911 – or 2011 – just got a lot easier thanks to Apex's new 1911 Ejector Pin Fixture (part# 104-152).
OK, maybe Randy Lee, founder and co-owner of Apex, and a master gunsmith who can build one helluva 1911, dreamt up the new tool and did all the design work. But hey, this is a team effort so we are ALL taking credit for it here at Apex.
The new Apex 1911 Ejector Pin Fixture was just added to our line of armorer tools and is now available for purchase.
So, what does this thing do?
Well, it's pretty straight forward. We designed the Ejector Pin Fixture to securely hold the ejector to the frame of any 1911 or 2011. This makes sure that the ejector, frame and ejector pin hole are in the proper relationship while fitting a new ejector.
The Ejector Pin Fixture anchors the ejector to the frame and permits you to precisely locate where to notch the ejector leg for a perfect fit. It even allows you to install an ejector with simple hand tools (small file, properly sized punch and a hammer) in the field with professional results.
The fixture is machined from a billet of steel and Black Melonite finished for enhanced durability. It comes with a set of three (3) brass tipped 6x32 set screws so you can position the ejector without marring either the ejector or the frame.
If you work on 1911s on a regular basis, this is a tool you need to consider adding to your workbench or armorer's toolbox.