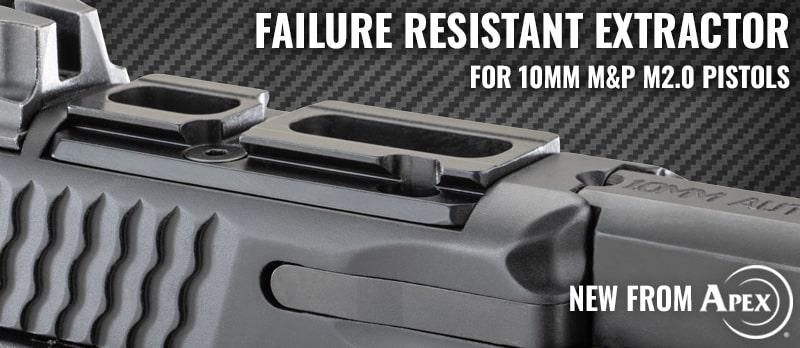 PEORIA, Ariz. – Apex Tactical Specialties is pleased to announce the release of a Failure Resistant Extractor designed specifically for 10mm variants of the M&P M2.0 pistol from Smith & Wesson. The Apex Failure Resistant Extractor is a direct drop-in replacement for the factory extractor and has been thoughtfully engineered to optimize feeding and deliver consistent extraction in the most demanding conditions. It is CNC machined from stainless steel and Black Nitride finished to last a lifetime.
This addition to Apex's line of Failure Resistant Extractors highlights the company's continued commitment to innovation. The new release expands Apex's already extensive catalog of Failure Resistant Extractors for Gen 3,4,5 and Slim Frame Glock, FN 509, Springfield Hellcat, SIG P320, and M&P Classic/M2.0 model pistols.
Apex's Failure Resistant Extractor has quickly won over 10mm M&P owners with its exceptional performance. Preston M. praised the ease of installation and significant improvement to his pistol's function. "It took about 5 minutes to replace, and it completely fixed my pistol. This extractor should be in every M&P 10mm." he declared. Chris D. shared similarly glowing feedback, "Almost 500 rounds with the Apex Failure Resistant Extractor and zero flaws. Very impressed!"
The Failure Resistant Extractor for M&P 10mm M2.0 pistols ships with a replacement extractor pivot pin and is available from ApexTactical.com, as well as through several dealers, online retailers, and distributors. Retailers and wholesale distributors that have yet to order and wish to stock the new extractors can contact Apex at [email protected] or (623) 322-0200 for pricing and quantity availability.
Features and Specifications:
Replaces factory extractor
Easy to install
Provides consistent, reliable extraction
Replacement extractor pivot pin included
Apex Part #: 100-337
MSRP: $55.00
About Apex Tactical Specialties:
Apex Tactical Specialties is the leading manufacturer of drop-in aftermarket parts, designing and producing more aftermarket triggers and trigger kits for a broader range of pistol makes and models than any other company. With a proven track record of producing high-quality performance upgrades and unparalleled customer service, Apex has become the trusted name in the firearms industry for enthusiasts seeking top-tier products that deliver exceptional results.
For more information about Apex Tactical Specialties, visit ApexTactical.com, or follow @ApexTactical on Facebook, Instagram, or Twitter. Those seeking installation guidance can find helpful instructional videos on Apex's YouTube channel.