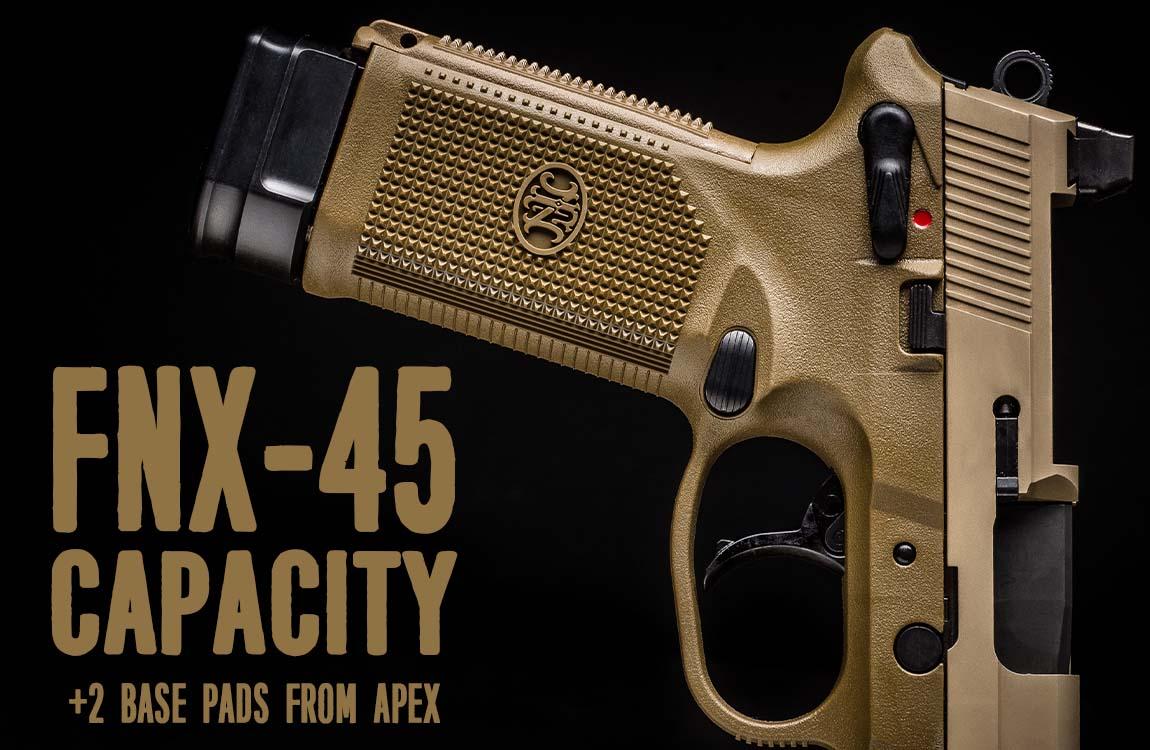 PEORIA, Ariz. – Apex has expanded its support for the FN line of pistols with a new Plus-2 Magazine Base Pad Extension for the FNX-45 model pistol. The new base pads retail for $34.95 each and are in-stock and available now from ApexTactical.com.
Machined from aluminum and black hardcoat anodized for durability, the new Apex FNX-45 base pad easily increases magazine capacity by two rounds and provides enough space for the stack to further compress the magazine spring to allow a fully loaded magazine to be seated with the slide in battery. The base pad's integrated finger grooves make stripping a magazine easy.
Retailers and wholesale distributors that have not yet ordered and wish to stock the new Plus-2 Base Pad for the FNX-45 can contact Apex at [email protected] or (623) 322-0200 for pricing and quantity availability.
Features and Specifications:
– For FNX-45 pistols
– Adds two (2) rounds of additional capacity to magazine
– Maintains function of the slide lock after last round is fired
– Finger grooves on the perimeter and front corner make stripping a mag easy
– Machined from aluminum and Black Type III Hardcoat anodized for durability
– Single set screw keeps mag extension snugly in place and allows for ease of disassembly
– Easy To Install
– Apex Part #: 119-102
– MSRP: $34.95
For more information on parts from Apex Tactical Specialties, visit www.ApexTactical.com, like Apex Tactical on Facebook or follow @ApexTactical on Instagram or Twitter. Instructional videos on the installation of Apex parts are available on Apex's YouTube, Full30 and GunStreamer channels.